Easter Issue, 2010
Are you feeling crafty for the upcoming holidays?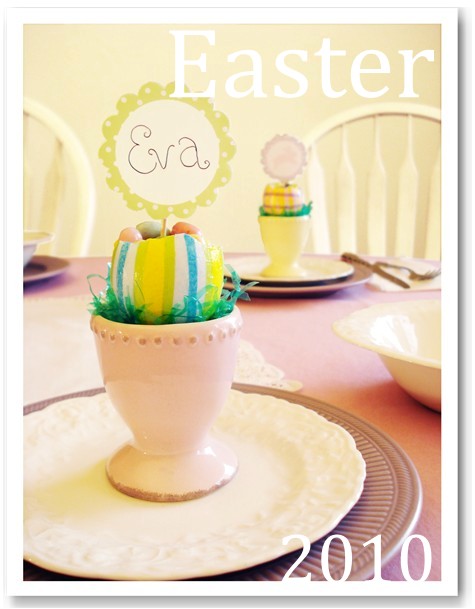 Look What's New for Easter 2010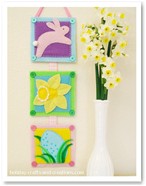 Easter Wall Hanging:
If you like to embroider or if you are just learning how, then try this easy Easter embroidery project. This adorable Easter wall hanging uses inexpensive sewing and craft supplies, and just a few easy embroidery stitches. This is a great sewing project for just about anyone.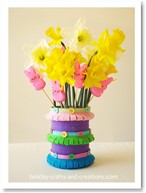 Felt Spring Vase:
If your kids would like some easy Easter crafts to do, then this spring vase makes a great kid-friendly project. This adorable spring vase is made from craft supplies that you may already have around the house. With a little bit of felt, ribbon and some buttons, your kids can turn an ordinary tin can into a beautiful spring vase for Easter.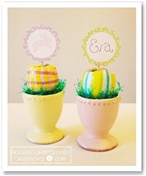 Easter Egg Candy Cups:
Do you need some Easter table setting ideas? Then try our Easter egg candy cups! These candy cups make really cute Easter place cards, or they could also be used as an Easter centerpiece. This is a very easy idea for decorating eggs, using just Mod Podge and pastel colored tissue paper. And once your Easter eggs are decorated, you can fill them with Easter jelly beans and stick a name tag in the center.


We are still working on more projects for Easter, so keep checking in from time to time at Holiday Crafts and Creations.
And don't forget to leave a comment on your favorite project. We love to hear what you have to say!


Product Review: Paper Punches
Paper punches are so fun and useful for many craft projects. They also can help speed up projects so you don't have to cut out shapes by hand. The tricky part is finding a punch that is the right shape and size that you are looking for, and also works well and is easy to use. While so many brands of punches are not very well made and stiff to use, we have found that both EK Success Paper Shapers and Martha Stewart punches are very quality and easy to use.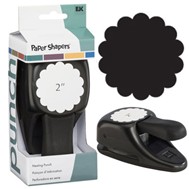 Starting out with EK Success, they are such a great brand because they provide many shapes, but also offer very large sizes that are usually impossible to find. They have a "Whale of a Punch" series which are quite large, but then an even larger series, usually labeled as X-Large. We own one of these X-Large punches, and it almost measure 3" in diameter! And despite this large size, it is still quite easy to punch, and is still working great after many many uses. Another very helpful punch that we would recommend any crafter have, is their scalloped punch, as shown in the picture. The 2" wide size is a great basic size for creating cupcake toppers, gift tag, and in card or scrapbook making. One word of caution: While we do not own one, we have read in several places that EK Success's "Pop-up" punches do not work quite as well as the regular ones do. However, we do not own one so we can't confirm this. EK Success punches can be found in some craft stores, but for the best variety we suggest Create For Less.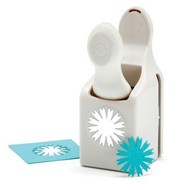 Martha Stewart punches seem to be of just as good quality as EK Success. While we only own one Martha Stewart punch, it has so far worked very well and is easy to use. Every time we use it we get a very crisply edged punch out. Another great thing about these punches is that there is a large selection of shapes that are very unique and intricate. They really go beyond your typical shapes seen in most other brands. You can find a huge variety of Martha Stewart punches at Create For Less as well.


FREE Easter Greeting Card
This card is one of the items from our Etsy store at copperkiwidesigns.etsy.com.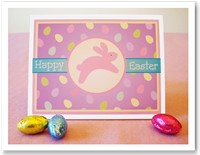 As a member of our Feeling Crafty newsletter, you get our featured Easter Greeting card from our store for FREE!
To get your card for free click here , then click the greeting card button and enter this month's password. Then just print as many cards as you like and ENJOY!
Password: 4daffodils




Thank you for visiting our site.
(This card will be available until the next newsletter goes out)
Upcoming Mother's Day Crafts
Felt photo album
Clay candle holder
Scrapbook style card ideas
And many more gift ideas
Become A Fan!

Don't forget to become a fan of our page on Facebook! There you can find all the latest updates on our site, and share pictures and ideas. So if you use Facebook often, this is a great way to keep up on our most recent ideas!


Look for our next newsletter, which will be e-mailed out around April 16th.

---