Tape measure

---
Instructions For Easy Easter Crafts For Kids:
Felt Spring Vase
Step 1:
Using your tape measure, measure the circumference and height of your can. Then measure and cut out a piece of purple felt that will fit around the can. Once you have the piece of felt cut out, glue this onto your can, so it is completely covered in the felt.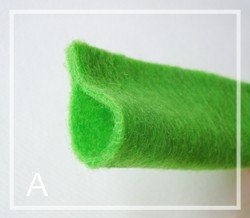 Step 2:
Now you will need to cut out 3 strips of felt (2 for smaller/shorter cans). These strips of felt will need to be 2-1/2" wide and as long as the circumference of your can. We used pink, green, and blue felt for our strips. Place glue along edge of one of the long sides of each strip. Then fold each strip in half lengthwise, gluing the two long sides together. See photo A.

Step 3:
The next step is to cut small strips (about 1/2" wide) in these strips of felt. Be careful not to cut all the way through; stop just before the glued edge at the top. See photo B.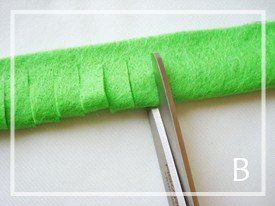 Step 4:
Now that you have the frilly strips finished you can glue them to the can. We would suggest laying the rows out before hand to get an idea of the spacing of the rows. It is probably best to then start with the top row and work your way down. You only want to place the glue along the top edge of the strip of felt so the cut frills stand out. See photo C.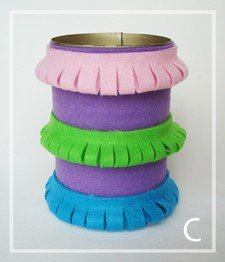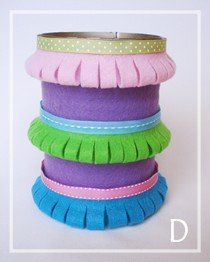 Step 5:
Next, cut three pieces of ribbon in the length of the circumference of your can. We used a pink, blue and green ribbon. Glue each ribbon along the top of each strip of felt. See photo D.
Step 6:
It's time to add the finishing touches to your vase! To do so, glue buttons along each of the ribbons. Or even glue them on the felt frills, or randomly over the can. Once you are happy with how the buttons look, your felt spring vase is finished!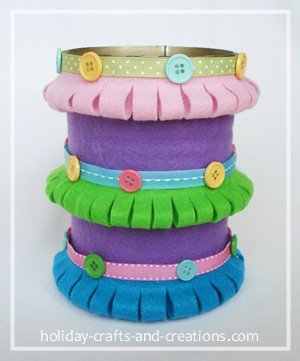 To give your spring bouquet an Easter touch, you could add some Peeps candy to your arrangement. In our example we put the Peeps bunnies on long wooden skewers. To help the Peeps to stand up, as well as the flowers, you could consider using some floral foam in the bottom of your can. This will make it a little easier to arrange everything.
For more easy Easter crafts for kids or yourself, click the link below to see our other fun craft projects for Easter.
Return to Easy Easter Crafts from
Easy Easter Crafts For Kids: Felt Spring Vase


---

foram Says:
it's very beautiful.
easter bunny Says:
soooooo cute...m going 2 make it 4 my grandmother..she really likes vases
sara Says:
fantastic
Victoria Says:
This is a lovely craft!! I shared this on my blog for an Easter round up: http://www.vixenmade.com/2012/04/10-easter-crafts-for-kids.html
Jennifer Letto Says:
That looks like so much fun....
Jamie Says:
Can't wait to make them for my Easter Brunch. :-)
jassi Says:
wow,very easy and nice
yvelisse Says:
bello (nice)
Jenny Says:
i think we are going to make these they are so adorable
k.ali Says:
loving it <3
twinkle dwivedi Says:
soo nice
avni Says:
i like it .will do it now
Kitty Says:
Nice & easy
Kelli from Holiday Crafts and Creations Says:
Hi ke! You can find Peeps bunnies in the Easter candy section of almost any store. But they are only sold around Easter time, so unfortunately they are not available year-round.
ke Says:
where do u get peep bunnies. i need them.
jelly Says:
lovely and beyond imagination
Dee Says:
owsm.....jxt luv it!..<3
Anonymous Says:
Pretty Pretty. Pretty Pretty
Laila Says:
Sooo cute and creative! I'm making it for mother's day
Val Says:
Adorable!.
Val
www.crieartezzanato.blogspot.com
---