4th of July Issue, 2010
Are you feeling crafty for the upcoming holidays?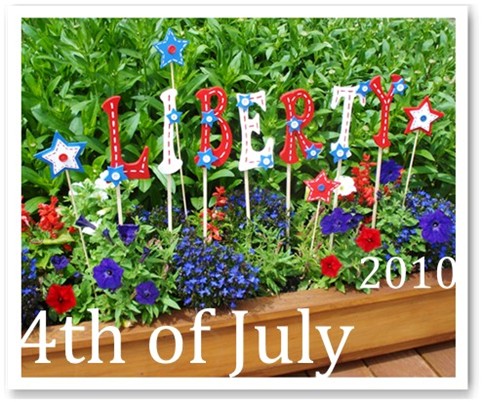 New for the 4th of July 2010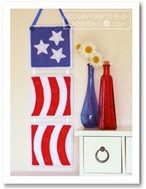 Patriotic Wall Hanging:
If you have been looking for some beginner sewing patterns, then this patriotic wall decoration is a very easy sewing project for you to try. It's simple to do and would add a nice patriotic decorating touch to your home. This project uses inexpensive sewing and craft supplies and really easy embroidery stitches. This project would be perfect for any beginner.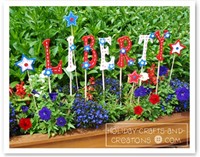 Patriotic Yard Sign:
One of our cutest garden craft ideas, for the 4th of July is making these patriotic yard signs. We spelled out "Liberty" using pre-cut wooden letters, but some other word ideas are "Freedom", "USA" or "America". This project is really quite easy and would make a great easy craft for kids.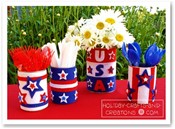 Patriotic Picnic Containers:
If you are looking to do patriotic tin can crafts, these star spangled cans are great for your 4th of July BBQ or picnic. They can be used for your picnic silverware, straws or as a vase for flowers. You can use just your favorite pattern and make all your cans match, or make all four patterns like we did.


For more 4th of July crafts, please visit us at Holiday Crafts and Creations.
And don't forget to leave a comment on your favorite project. We love to hear what you have to say!


FREE 4th of July Card
This card was designed especially for our Feeling Crafty newsletter members.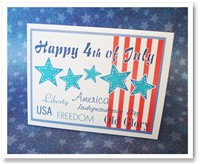 As a member of our Feeling Crafty newsletter, you get our 4th of July card for FREE!
To get your card for free click here , then click the greeting card button and enter this month's password. Then just print as many cards as you like and ENJOY!
Password: 4freedom




Thank you for visiting our site.
(This card will be available until the next newsletter goes out)
New Site Section: Summer Crafts!
We are about add on a new section to our website... Summer Crafts! This section will have fun ideas to keep you and your kids busy over the summer. So far we have ideas that are beach themed and garden themed.
Here is just a little sneak peek at one of our upcoming projects...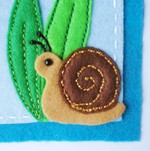 Upcoming Summer Crafts
Beaded Flower Banner (seen above)
Cupcake ideas
Bird Feeder idea
And many more to come!
Become A Fan!

Don't forget to become a fan of our page on Facebook! There you can find all the latest updates on our site, and share pictures and ideas. So if you use Facebook often, this is a great way to keep up on our most recent ideas!


---