Mother's Day Issue, 2010
Are you feeling crafty for the upcoming holidays?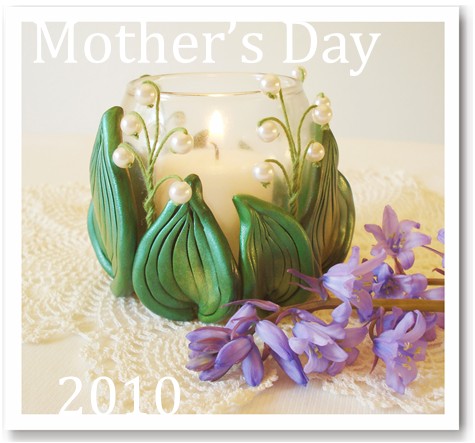 NEW for Mother's Day 2010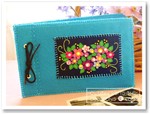 Felt Photo Album:
Are you giving mom photos for Mother's Day and need some photo album ideas? Then try this album, covered with beautiful felt flowers. This photo album craft idea uses easy embroidery stitches and inexpensive supplies.



Bird Stamp Card:
This is one of our favorite homemade Mothers Day cards! The cute bird stamp we used was from the Birds Galore stamp set by Inkadinkado, but you could also consider using a rubber stamp of a flower, butterfly or any other stamp you think your mom might like.


Clay Candle Holder:
One of our most beautiful polymer clay tutorials is this lily of the valley flower which we molded onto a votive glass candle holder. This votive glass candle holder would make a lovely homemade gift for Mother's Day. Overall, this is a pretty quick and easy craft project to do.


For more Mother's Day crafts, please visit Holiday Crafts and Creations.
We are still working on more projects for Mother's Day, so keep checking in from time to time.
And don't forget to leave a comment on your favorite project. We love to hear what you have to say!


Win a Free Pattern of Sammy the Sea Turtle
in our Feeling Crafty Raffle!

Our first Squishy-Cute plushie pattern, Sammy the Sea Turtle, is finally finished and set to be released in our Etsy store, Squishy-Cute Designs, on Tuesday, May 4th.
However, as a Feeling Crafty Newsletter member, you have the chance to win a FREE copy of the Sammy the Sea Turtle PDF pattern! There will be a total of 5 raffle winners.

To enter the raffle: Simply go to our Contact Us page, give your name and email address (the one you would want the pattern sent to) and a short message like "Please enter me in the Sammy Raffle!"
PLEASE do NOT reply to this email/newsletter to enter the raffle.
We will be taking raffle entries up until the evening of Monday, May 3th. We will then announce the winners on our homepage on Tuesday (the 4th) in the morning, right before we release the pattern in our store. That is also when the pattern will be sent to those who won.
In exchange for the free copy, we would love it if the winners could give us some feedback on Sammy, since this is our first stuffed animal pattern.
So remember to enter your name right now if you want a chance to win the Sammy the Sea Turtle Pattern!!!
Helpful Hint: How to do the Blanket Stitch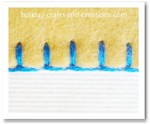 After much time spent planning and working on this page, we finally have it up! The blanket stitch can be kind of tricky, so in this tutorial we have tried to cover all possible situations of using the blanket stitch. Most importantly, how to start, switch to new thread, and how to end your thread. We hope that this is a very helpful page for everyone!
Visit our Blanket Stitch Page for the complete tutorial.
FREE Mother's Day Card
This card was designed especially for our Feeling Crafty Newsletter members, and is a Copper Kiwi Designs creation.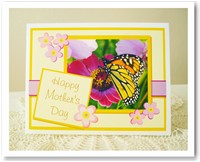 As a member of our Feeling Crafty newsletter, you get our Mother's Day Greeting card for FREE!
To get your card for free click here , then click the greeting card button and enter this month's password. Then just print as many cards as you like and ENJOY!
Password: 9flowers




Thank you for visiting our site.
(This card will be available until the next newsletter goes out)
Upcoming Father's Day Crafts
Pencil holder craft
Scrapbook style card ideas
Cupcake idea
Become A Fan!

Don't forget to become a fan of our page on Facebook! There you can find all the latest updates on our site, and share pictures and ideas. So if you use Facebook often, this is a great way to keep up on our most recent ideas!



---