Homemade Mothers Day Cards:
Bird Stamp Card
This is one of our favorite homemade Mothers Day cards! The cute bird stamp we used was from the Birds Galore stamp set by Inkadinkado, but you could also consider using a rubber stamp of a flower, butterfly or any other stamp you think your mom might like.
In addition to the main stamp, you will also need a "Mom" stamp, or just individual letter stamps to create "Mom" or "Mother". To make this card, you will need white cardstock, blue construction paper, three designs of scrapbook paper, a short piece of ribbon, some glue or double sided tape, a paper hole punch, and ink (or embossing powder and ink).
So if you have been looking for some rubber stamp crafts or scrapbooking card ideas for Mother's Day then try this cute bird stamp card!
Homemade Mothers Day Cards: Bird Stamp Card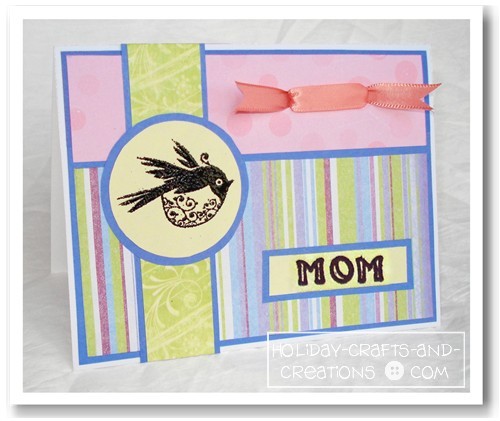 ---


First we cut a piece of card stock that measured 8.5" x 5.5" and then folded this in half. Then measure out a piece of blue construction paper that is a little smaller than the front of the card, about 5-3/8" x 4". This size can vary depended on how much of a white border you want to show. Glue or tape this on the front of the card. Then cut out a piece of pink scrapbook paper that measures about 5-3/16" x 1-5/16" (Remember, all these measurements don't need to be as exact as they sound, that is just what ours ended up being). Then glue or tape this piece along the folded edge of the card (this will be a top folding card).
Now cut out a second piece of scrapbook paper (ours was striped) that measures 5-3/16" x 2-1/2". Glue this evenly below the pink piece.

Now we will create the vertical strip with the stamp on it. To do this, cut a piece of the blue construction paper that is 4-1/4" x 1-1/8", and then a piece of green scrapbook paper that is 4-1/4" x 1" (or slightly less than 1"). Glue the blue strip down first, running up and down near the left side of the card. Then glue the green piece evenly in the center.
Take your stamp and create an image on some nice white cardstock. If you would like to have this be an embossed image, please check out our Embossing Stamps page. Once you are happy with your stamped image, cut it out in a circle around the image. Then place this on the blue construction paper and cut out a slightly larger circle to border it. Then glue these pieces down on the card, right on top of the vertical green strip.
Similarly, using your "Mom" stamp, create the greeting on white paper and cut out around it. Then cut a border of blue construction paper to match. Glue this down in the lower right-hand side of the card.

The final step is to add the ribbon to the top of the card. To do this, use your hole punch to punch out two holes that are a little over an inch apart. Then cut a piece of ribbon that is about 4" to 5" long. Thread the left end of the ribbon down the left hole and the right end down the right hole, so both tail ends are inside the card. Then cross the tails over and bring the right end up through the left hole and the left end up through the right hole. Then pull it tight and trim the ends. Cut a notch out of each end for added cuteness!
Your card is now complete! Just fill in a special message to Mom inside! For more ideas for homemade Mothers Day Cards just click the link below.
Return to Mother's Day Crafts from
Homemade Mothers Day Cards: Bird Stamp Card
---