St. Patrick's Day Issue, 2010
Are you feeling crafty for the upcoming holidays?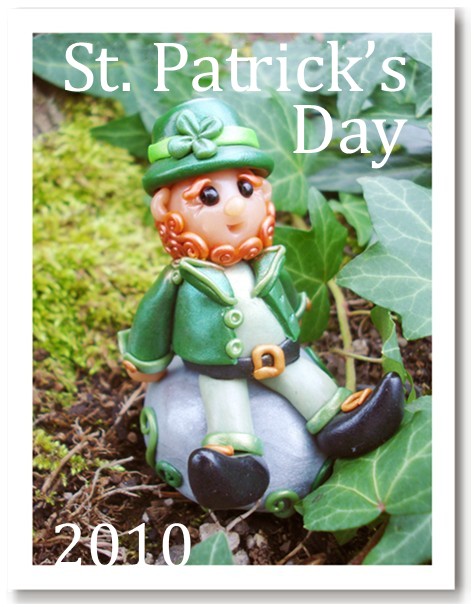 NEW For St. Patrick's Day 2010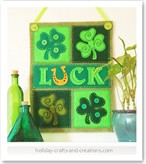 Mini Shamrock Banner:

This little banner is made up of different shamrock designs and simple embroidery stitches. Decorating with this adorable banner is sure to bring the luck of the Irish to your home this St. Patrick's Day! We have provided the complete instructions and template so you can easily create this banner yourself.



Shamrock Charm:

One of our fun and easy polymer clay tutorials are these cute little clay shamrocks. We have turned ours into shamrock jewelry, but they could also be used as embellishments on all sorts of things like magnets, frames, pins, or for scrapbooking. So if you have been looking for some easy St Patrick's Day crafts or some fun kids crafts, these clay shamrocks would make a great project.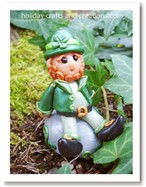 Polymer Clay Leprechaun:

f you are looking for a clever St. Patrick's Day decoration, this leprechaun is quite charming, and would certainly bring the luck of the Irish to your home! He would be a great project to do with your kids, and would be a cute keepsake to bring out every St. Patrick's Day. We have provided complete instructions and a list of the craft supplies that you will need to complete this leprechaun art project.



For more St. Patrick's Day crafts, please visit Holiday Crafts and Creations.


And don't forget to leave a comment on your favorite project. We love to hear what you have to say!


Product Review:
Pearl Ex Powdered Pigments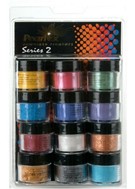 Pearl Ex powdered pigments are a shimmery mica powder that can be used in many different ways in arts and crafts. Pearl Ex comes in many different colors, and each color has a shimmery metallic look. These powders can be used in mediums such as candle making, stamping and embossing, clay, and probably much more.
We actually only recently discovered Pearl Ex, but are really glad that we did, as it is a great way to give shimmer to a project. We have mainly only used Pearl Ex in polymer clay projects so far, and have been really happy with the results. When using it on polymer clay, it is best to match the color of powder with the color of clay you are using. The powder can be applied with a small paintbrush. And this also must be done before the clay has been baked, for best results. We have found that after the clay has then been baked, it is best to seal the clay with an acrylic sealer to keep the Pearl Ex from rubbing off over time.
So while we can't yet give you too much advice on how to use Pearl Ex with other mediums, it is a great product for polymer clay, and probably just as useful for other projects. I'm sure we will be trying it out in other mediums in the future. Or if you have used it before in other mediums, let us know how it went!


FREE St. Patrick's Day Greeting Card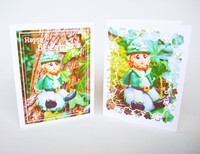 This card is one of the items from our new Etsy store at copperkiwidesigns.etsy.com.
As a member of our Feeling Crafty newsletter, you get our featured St. Patrick's Day greeting card from our store for FREE!
To get your card for free, click here , then click the greeting card button and enter this month's password. Then just print as many cards as you like and ENJOY!
Password: 17shamrocks




Thank you for visiting our site.
(This card will be available until the next newsletter goes out)
Upcoming Easter Crafts
Felt daffodil napkin rings
Easter vase
Easter place card ideas
And many more cute Easter Ideas
Become A Fan!

Don't forget to become a fan of our page on Facebook! There you can find all the latest updates on our site, and share pictures and ideas. So if you use Facebook often, this is a great way to keep up on our most recent ideas!


Look for our next newsletter, which will be e-mailed out around March 18th.

---