Thanksgiving Issue, 2009
Are you feeling crafty for the upcoming holidays?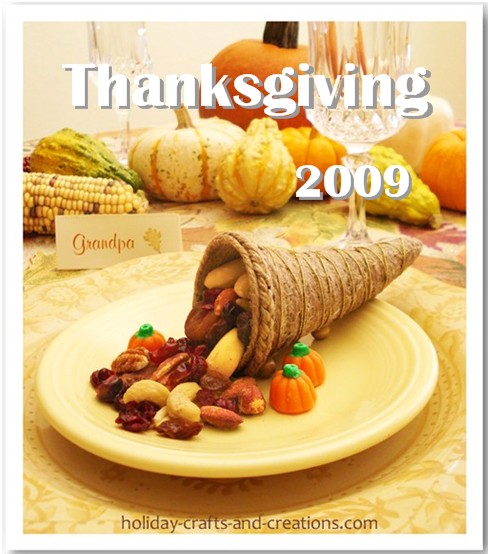 Welcome to our first monthly newsletter! We are so glad that you have signed up to Feeling Crafty! We hope you will enjoy this newsletter and the many more to come.
Look What's New for Thanksgiving 2009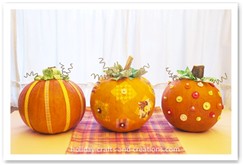 Patchwork Pumpkin Centerpieces:

You can easily turn ordinary pumpkins into beautiful pumpkin centerpieces with just some ribbon, buttons and fabric. These are fun and simple projects that would make great homemade centerpieces for your Thanksgiving table.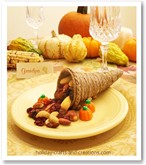 Mini Cornucopia:

Learn how to make your own mini cornucopias. They only measure about 5" long, so they make really cute little cornucopias that would be perfect to place on each guest's plate at your Thanksgiving dinner. They could be filled with mixed nuts, raisins, dried cranberries or other dried fruit. They would be a cute way to serve a snack to your guests while they wait for dinner.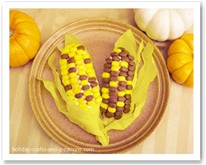 Indian Corn Treats:

Looking for some Thanksgiving crafts to make that are kid-friendly? This is a quick and easy project that kids can do themselves. It would also make a great centerpiece for the kids' table on Thanksgiving.



For more Thanksgiving crafts, please visit Holiday Crafts and Creations.

Thanksgiving Decorating Tips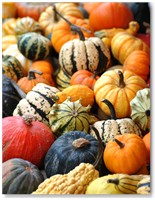 Pumpkins and gourds
Decorate your home with pumpkins and gourds! While this idea may not be too original, it also may often be underestimated. As Thanksgiving nears, your local grocery store will most likely have a selection of assorted pumpkins and gourds to choose from, at a fairly cheap price. Buy a variety! You will probably find some gourds with pretty unique shapes and colors. By simply placing clusters of gourds in twos or threes around your home, you can quickly and cheaply make your house ready for the holiday. It usually has a nicer effect than you might think!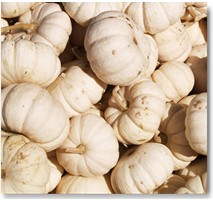 A White Thanksgiving
Why not try something new for your table setting this Thanksgiving? If you would like to have a classy and unique look this year, try going with all white. Use a plain white tablecloth, or one with a subtle white leaf pattern on it if you can find one. Of course, use white plates and napkins. However, what will really make the look complete is your centerpiece...
Buy one large white pumpkin, and several smaller ones to surround it. Then, buy a few ears of decorator corn. It should be possible to find these in a very pale yellow if not white. Lay these ears of corn around the pumpkins and propped up next to them. To finish the look, buy or collect a good amount of acorns. Spray paint these in a glossy white and place them around your centerpiece once they are dry.
You could also do a white pumpkin version of our Patchwork Pumpkin Centerpieces project. Just use white pumpkins and embellish them with white or gold ribbon, buttons and fabric. This could make a very elegant centerpiece as well.


Thanksgiving Greeting Card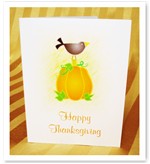 To print your free monthly greeting card, click here, then click the greeting card button and enter this month's password. Then just print as many cards as you like and ENJOY!
Password: squirrels88




Thank you for visiting our site.
(This card will be available until the next newsletter goes out)
Upcoming Christmas Ideas
Mini Christmas Banner
Clay Ornaments
Felt Cone Christmas Tree
Painted Swirl Ornament
And More!
Look for our next newsletter, which will be e-mailed out on November 27th.

---