4th Of July Decorating Ideas:
Using Wired Star Garland
If you are looking for some quick and easy 4th of July decorating ideas, try using wired star garland. You can buy this at almost any craft store, and probably even the grocery store, and it really adds red, white and blue sparkle to whatever you put it on. Here are a few suggestions of how you can use it to get you started...

Potted Plants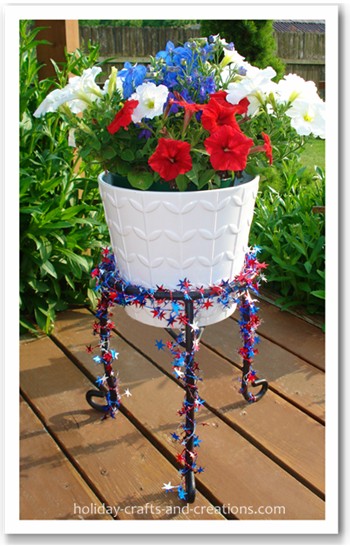 If you have any potted plants on stands, wrap the star garland around the legs and base of the stand and it will instantly come to life!
If you have no stands for your potted plants, you could wrap the garland around the pot itself. Just set the pot on one end of the garland to hold it down, and then wrap it up around the pot. The other end could be tucked in the dirt on the backside of the pot.
If you have red, white and blue flowers planted, it will also help to pick up the colors. We chose red and white petunias, and a blue delphinium in this photo. Lobelias also make a nice blue flower.

---
Candle Centerpiece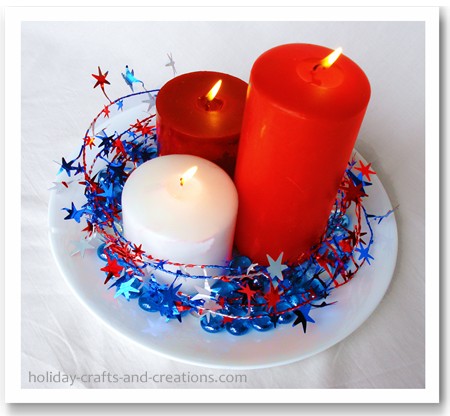 You can easily make your own candle centerpiece and add star garland to finish the look. All you need is a white plate or platter, several large candles and some glass pebbles, in addition to the star garland. Place the candles on the plate and surround them with blue, red or white glass pebbles. Then to finish off the look, spiral the star garland around the candles 3 or 4 times. Be sure that the garland is low enough and away from the flames!
Tip: If you are using red or blue candles, it would be a good idea to place them on a small napkin rather than directly on the plate because often the coloring on the candle will rub off and stain your plate!
---
Croquet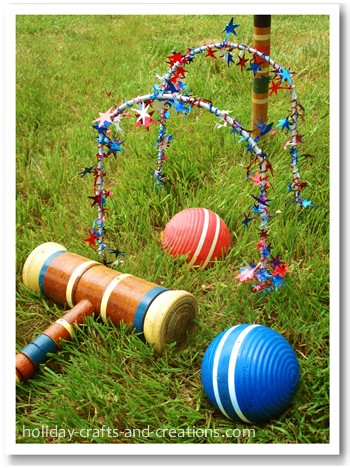 If you are having a family gathering this 4th of July, you could make your croquet set fun and festive with star garland.
Croquet is fun for both kids and adults, and it can add to your patriotic decorations. Just tightly wrap the wickets with the star garland and your lawn will sparkle with red, white and blue.
You could also wrap the garland around the handle of the mallets if you had some left.

---
Shrubs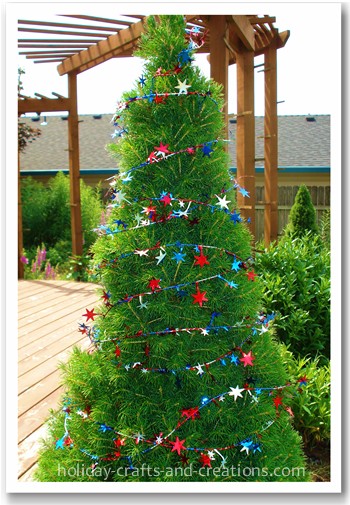 Star garland can easily be wrapped around shrubs or bushes like you would Christmas lights.
This would look especially nice on shrubs surrounding a deck or patio where you would have a 4th of July BBQ or dinner.


---
Desserts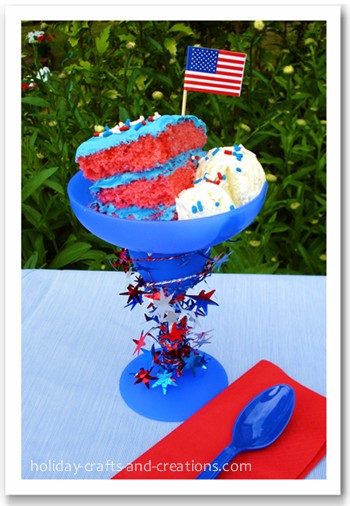 If you are serving a fun dessert in some type of stem-ware, star garland can be easily wrapped around the stem to add sparkle.
In this example we chose a margarita glass to serve red strawberry cake with blue frosting and ice cream. You could also use a wine glass or martini glass to serve a dessert in as well.
Flag toothpicks can be found in packs of around 100 for about a dollar at a craft or party store, and they would also make your dessert look more patriotic!


---
These are just a few 4th of July decorating ideas that you can do with wired star garland, but there are many other fun ways it could be used. We would love to hear from you if you have any other ideas! For more 4th of July decorating ideas, click the link below.
Return to 4th of July Crafts from
4th of July Decorating Ideas: Using Wired Star Garland


julie adams Says:
I love using this product! I make gourmet pretzel rods and I use the patriot wire as my bows - I also take the patriotic wire and make it look like a firework that just burst in the air. They are so beautiful. People love them! I make many gourmet pretzel rod arrangements using this craft wire for all occasions. I decorate my christmas packages, birthdays and all special occasions. The wire makes terrific bows and it can be done in a way to hold ornaments. What a terrific product.