Christmas Place Cards: Candy Snowman
Do you need an idea for adorable Christmas place cards for the kids' table? Here is a fun project that you and your kids can do together. These candy filled snowmen make cute Christmas place cards and are also great party favors for your guests. These charming snowmen would be great for all your guests or maybe just at the kids' table. If you would like more elegant ornament place cards for the adult table, check out our other
candy filled ornament ideas.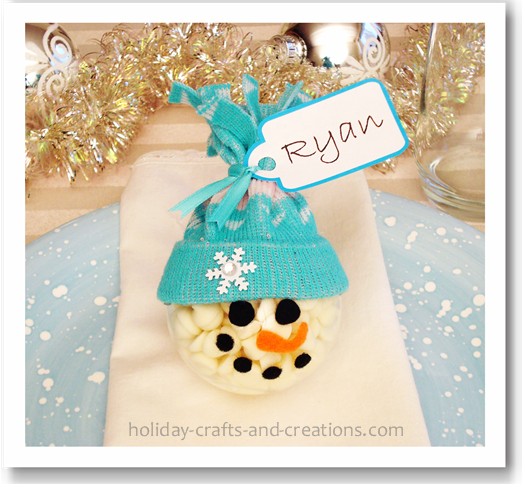 ---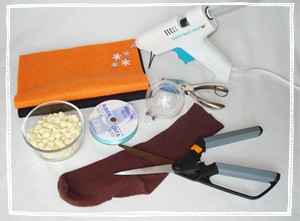 What You Will Need:
Clear ornament balls
White candy (white M&M's, jelly beans, white chocolate chips)
Sock (child size)
Felt: orange and black
Ribbon
Hot glue gun
Paper hole punch
Scissors
Embellishments: snowflake confetti (optional)
---
Step 1:
Cut off the heel of the sock. See photo A. Then cut evenly spaced strips all the way around the end of the sock. Make the cuts about 1" deep. See photo B.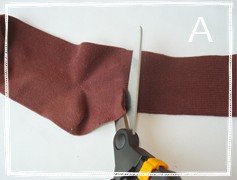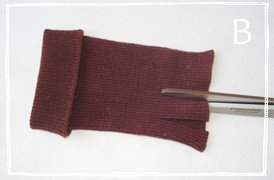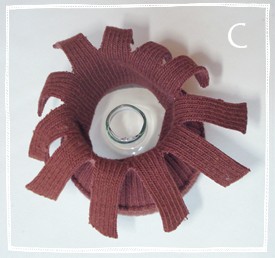 &nbsp
Step 2:
Remove the ornament hanger from the ball. Fold over the top of the sock about 3/4". Stretch the sock onto the top of the ball. The sock should be on a little less than half of the ball. Make sure the top opening of the ball is centered in the middle of the sock. See photo C.


Step 3:
Now hot glue the sock onto the ball. Hot gluing under the rim of the sock should be enough to hold it in place. There is no need to put glue under the entire surface of the sock. See photo D.
Step 4:
Using a paper hole punch, cut out 4 black felt circles for the mouth. Now cut two black felt circles for the eyes. Make them a little bigger than the mouth circles. For the nose, cut a carrot shaped piece of orange felt. Hot glue the felt pieces onto the ball to form the snowman's face. Also hot glue any embellishments that you would like onto the snowman's hat. We used a piece of snowflake confetti.
Step 5:
Fill the ball with white candy and put the ornament hanger back in. Then tie the hat off with a piece of ribbon. Print the name tag template and cut out a tag for each of your guests. After writing their name on the tag, tie it in with the ribbon.
Your Candy Snowman Place Cards are now finished!
After the candy is gone, your guests can fill the ball with cotton balls and hang them on their tree!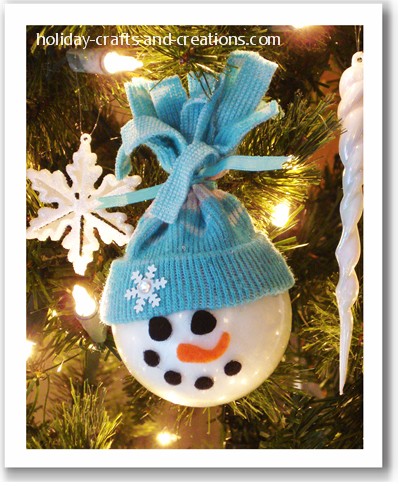 Return to Christmas Crafts from Christmas Place Cards: Candy Snowman

Arabeth Says:
Great ideas! My whole family got involved and they say they are too cool for crafts!!!
Sheryl Says:
Love this! I think cotton balls and some glitter shaken around would be perfect!
Tisha Says:
Love this idea! I hope to use it next year! I'll keep my eye out for cheap plastic balls like this. Thanks!
---