Easter Cupcake Decorating Ideas:
Printable Toppers
Want some easy cupcake decorating ideas for Easter? A really quick way to turn ordinary cupcakes into Easter cupcakes is with these free printable toppers. These cupcake toppers are a very simple and inexpensive way to get your cupcakes looking cute for Easter! And these printables could also be made into food picks so other Easter desserts like brownies, ice cream, cake or pie could also be fun and festive.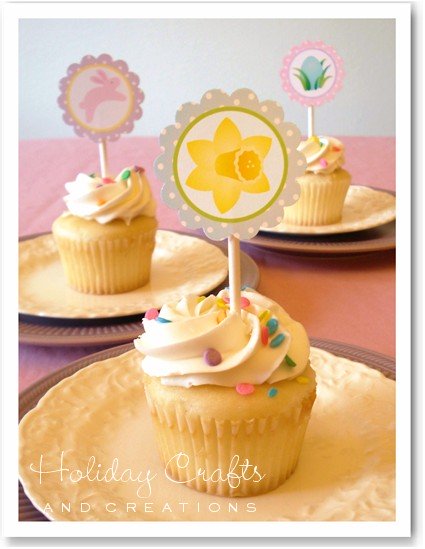 ---
Materials
Lollipop sticks, popsicle sticks or toothpicks
Cupcakes and frosting
Tape
2" Scallop or round punch (optional)
Cardstock
---
Instructions

Print the cupcake toppers. We would recommend using cardstock. There are 12 toppers per page in different designs.

Punch or cut out the toppers. To do this, use either a 2" scallop punch or circle punch. If you have neither, simply draw a 2" circle around the design and cut it out.

Next, simply tape the topper to the lollipop stick (or whichever you decided to use). Now they are ready to insert into your cupcakes.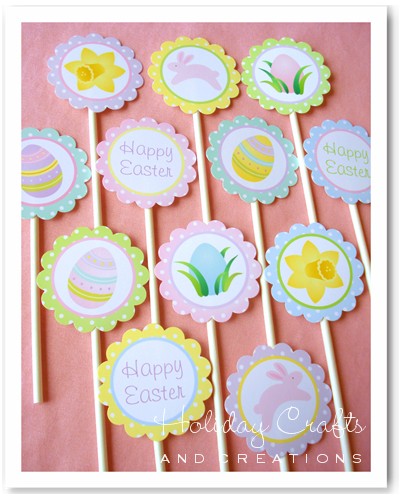 We hope you enjoy using these printable toppers on your cupcakes or on any of your other Easter dessert ideas. Have fun and Happy Easter!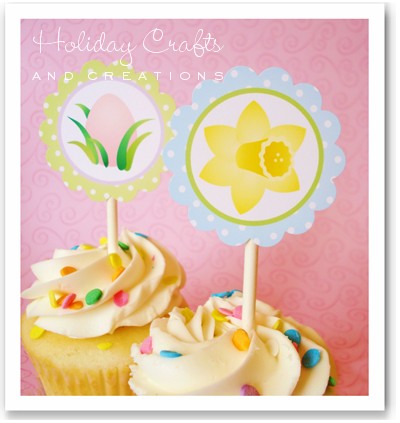 Want more Easter cupcake ideas? Check out our teacup place card page. At the bottom of that page, is another cute idea for Easter cupcakes.
Return to Easter Crafts from
Easter Cupcake Decorating Ideas: Printable Toppers


---

Joanna Says:
Hi there! I love this idea...it's so darling...and I was hoping that you might add it to my Easter and Spring Linking Party to share with my readers. If you are interested, you can go here http://bakedbyjoanna.blogspot.com/2011/04/easter-linking-party.html to enter. Thanks!