Cupcake Decorating Ideas For New Year's Eve
If you have been searching for some cupcake decorating ideas for New Year's Eve, then you might want to try these cupcake toppers. These toppers are very easy to make and they add a really nice festive sparkle to your holiday table.
You could also use these star toppers as food picks for other party food like deli sandwiches or h'orderves.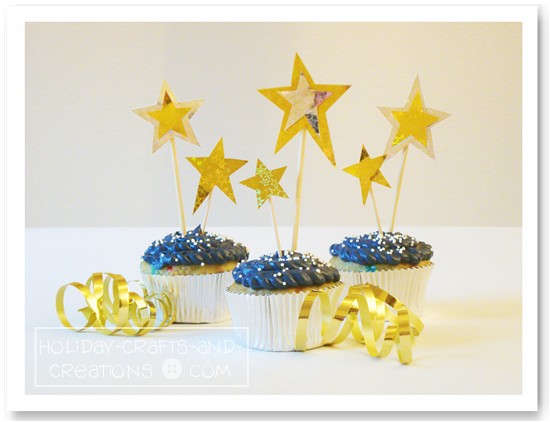 ---
Materials
Wooden skewers and toothpicks
Cupcakes and frosting*
Tape (regular and double-sided)
Hologram paper (gold and silver)
Scissors
* To get the dark color of frosting, we simply added red and blue food coloring to vanilla frosting until it got as dark as we wanted it. You could also try starting with chocolate frosting and adding just blue food coloring to make it appear black. We suggest making the frosting dark so it resembles the night sky. We also used white nonpareil sprinkles to add to the look of stars in the sky.
---
Instructions

Print and cut out the star pattern template. Then trace and cut out the stars on gold and silver hologram paper. You can also layer smaller stars on larger ones and contrast gold and silver if you choose.


Next decide which stars will go on which cupcake and how tall they will be. We only put two stars to a cupcake, but you could put more or less, depending on how you want them to look.

Tape the skewers and/or toothpicks to the back of the stars. You will probably need to break some of the skewers so they are not so tall. And of course use the toothpicks for the small and short stars. Then sink the skewers and toothpicks into the cupcakes at various angles and your cupcakes are ready for your party!

These toppers could also be a fun and easy New Year's Eve activity for your kids. And for other holiday activities throughout the upcoming year, be sure to check out our other free crafts for children or for yourself.
We hope you enjoyed these cupcake ideas and for more New Years Eve party ideas, click the link below.


Return to New Years Eve Crafts from Cupcake Decorating Ideas



Eve Says:
Thank you! You solved my cupcake emergency!!
Cupcake lover Says:
So cute! So creative:)
Tina Says:
How cute! This is a nice New Year's Eve party idea.
Angie Says:
a very fun and festive idea, thanks!
mariah Says:
goodie a cutie spotted in the house