Cupcake Decorating Ideas
for Father's Day
Looking for some fun and easy cupcake decorating ideas? Give dad the relaxing look of the tropics with our printable cupcake toppers.
This decorating idea is a very easy way to turn ordinary cupcakes into a tropical paradise for dad. We made our cupcakes look like a sandy beach and we used some sugar wafer cookies for the palm tree trunks for some added fun. This is also a great idea if you have been looking for some kids printable activities. This would be a fun and easy project for them to do.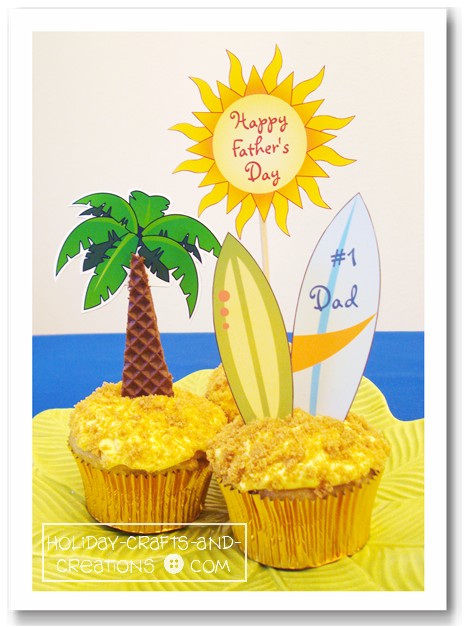 ---
Materials For Cupcake Decorating Ideas
Popsicle sticks, toothpicks, lollipop sticks or wooden skewers
Scissors
Tape
Sugar wafer cookies
Cupcakes
Brown sugar
Yellow frosting
---
Instructions For Cupcake Decorating Ideas

To make your cupcakes look like a sandy beach, use yellow colored frosting. Then sprinkle a little brown sugar on top to create the look of sand. You could also try dipping the frosted cupcakes in a bowl of brown sugar if you want them more completely covered.

Print and cut out the cupcake topper templates. Tape the images (except the palm trees) to toothpicks, popsicle sticks, skewers etc. Then stick one into each cupcake. The sunshine would look best up on a tall skewer if possible.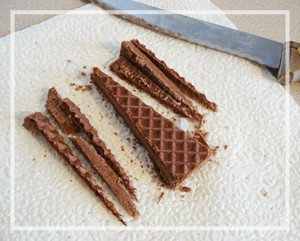 To make the palm tree trunks, use a serrated knife to cut the sugar wafer cookies into triangles as shown in the picture. Be sure to gently slice through the cookie rather than push the knife down or the cookie might crack. If one side of the wafer pops off, you can "glue" it back together with a little frosting.
Tape two opposite images of the palm tree together, back to back, and then slide it into the tip of the cookie (into the frosting in the middle of the cookie).

As a finishing touch, if you want a few "pearls" to go with the seashells, buy some small white mint balls or other round white candy to place at the base of each shell.
Your tropical cupcakes are now complete!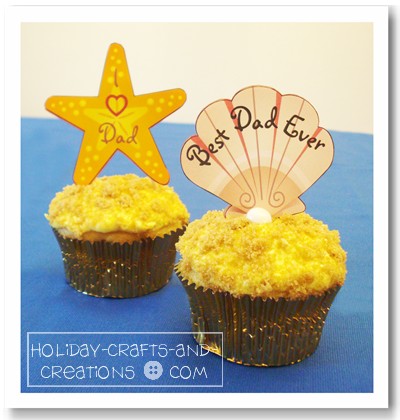 Return to Father's Day Crafts from
Cupcake Decorating Ideas

fifi Says:
i love it.
Julie Says:
What a cute idea!! Me and my daughter are going to make these for her Dad this year. He loves the beach so these are perfect! Thanks so much!
---