New Year's Eve Cupcake Ideas

Looking for some holiday dessert ideas for a New Year's Eve party? Then try these easy cupcake ideas. These printable cupcake toppers are a simple and inexpensive way to get your cupcakes party-ready! Or you could also use them as food picks for deli sandwiches or h'orderves.
And if you are tight on money after the holidays, and would like to get some cheap party decorations for New Year's Eve, our cupcake toppers are very festive, fun and free!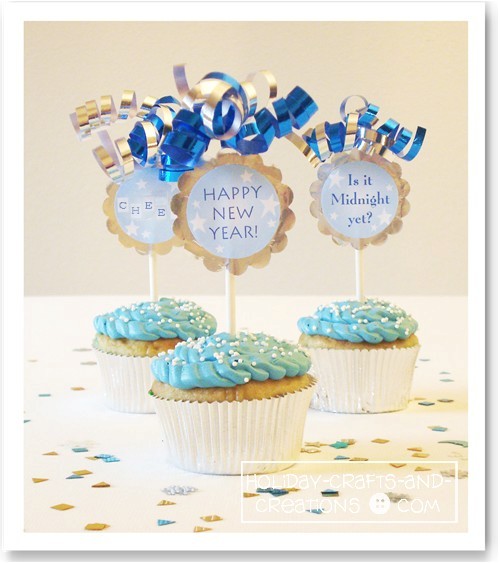 ---
Materials
Popsicle sticks, toothpicks, lollipop sticks or straws
Cupcakes and frosting
Tape (regular and double-sided)
Curling ribbon (shiny metallic)
Aluminum foil
Scissors
2" Scallop circle punch (optional)
Cardstock (optional)
---
Instructions

Print and cut out the Cake topper templates. We would recommend using cardstock. There are 15 toppers per page, and three different designs.

Punch or cut out the aluminum foil backing. To do this, use either a 2" scallop punch or the circle template that we provided.

Using double-sided tape, tape the cupcake toppers to the foil backing.

Curl some curling ribbon and tape it to the top of the cupcake topper. Then tape the topper to the lollipop stick (or whatever you decided to use). Now they are ready to insert into the cupcakes.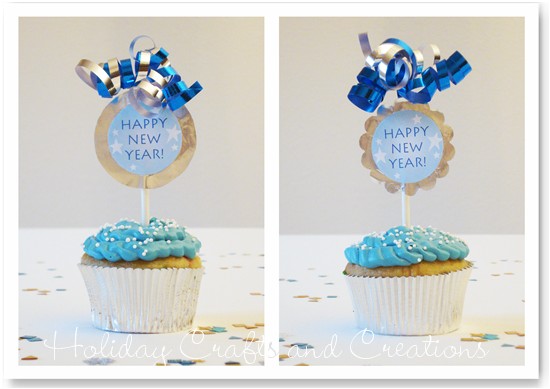 Using circle template                     Using 2" scallop punch

We hope you have enjoyed these cupcake decorating ideas, and for more New Years Eve party ideas, click the link below.
Return to New Years Eve Crafts From Cupcake Ideas



Toni Says:
I was looking for party ideas and found your site. Love all your ideas, thanks for sharing!
Emily Says:
Thanks for the free printable toppers!!