Easy Homemade Gift Ideas:
Painted Coffee Mug
Do you need some easy homemade gift ideas? This painted coffee mug is a great gift to make. You could be very creative with this project by painting any design you can imagine. You could also make a personalized mug with their name on it. With a little help, it would even be a fun project for kids to show off their creativity. But if you like our snowman design, we have provided complete instructions and the snowman template, so you can easily create this same design on your coffee mug.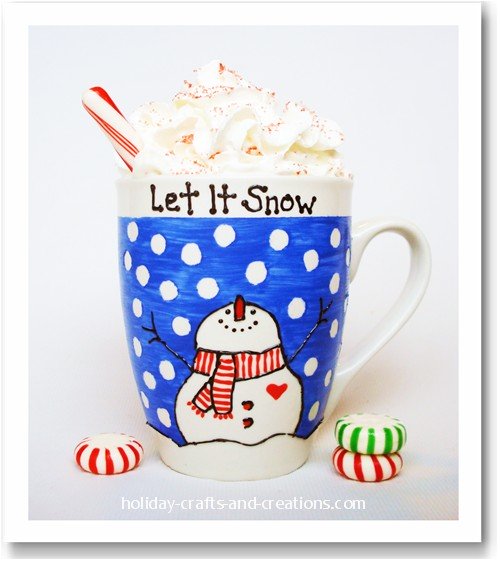 ---
Materials For Easy Homemade Gift Ideas:
Painted Coffee Mug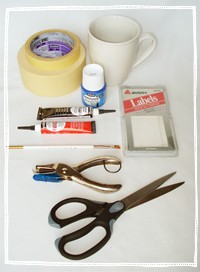 What You Will Need:
White mug (usually can be found at a dollar store)
Porcelain paints - We used blue Porcelaine 150 by Pebeo
Porcelain outliner tube paint – We used black and red Porcelaine 150 outliner tube)
Paintbrush
Masking tape (3/4" and 2" wide)
Adhesive mailing labels
Paper hole punch
Scissors
---
Instructions For Easy Homemade Gift Ideas:
Painted Coffee Mug
Step 1:
Wash and dry the coffee mug.
Step 2:
To make our snowman design, place a piece of masking tape 1/2" down from the rim. Be sure to press the tape down firmly so the paint won't bleed under the edge of the tape.
Step 3:
The masking tape that goes around the bottom edge of your coffee mug is to represent the snow on the ground so cut a strip of tape with a wavy or curved design all along the tape's edge. See photo A. The tape at it's highest "lump of snow" should be about 3/4" up from the bottom of the mug.

Step 4:
Now tape around the bases of the handle, because the handle is to remain white. Remember to always press the tape down firmly.
Step 5:
Now print and cut out the Snowman Mug Template. Next, trace the snowman onto 2" wide masking tape. You could also trace the snowman onto an adhesive mailing label, but we found they are harder to remove. Cut out the snowman, and firmly press it onto your coffee mug. Place it so that the bottom of your snowman overlaps the masking tape "snow" a little. Now using a pencil, draw on your snowman's arms so you will know where NOT to put any snowflakes.
Step 6:
Using a paper hole punch and your adhesive mailing labels, punch out several "snowflake" circles. You could try using masking tape for this, but we found that it doesn't work very well with a hole punch. Randomly stick the snowflake circles around your coffee mug. Be sure to press each one down nice and firm.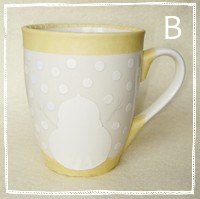 &nbsp
Step 7:
To decorate the backside of your mug you could do another snowman or you could personalize the mug by writing their name on the back with your tube of outliner paint. Write the name after the mug has been painted. Your mug is now ready to be painted. See photo B.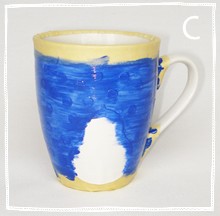 &nbsp
Step 8:
Paint your entire coffee mug blue. It may need two coats to achieve the best look. Let it dry completely (at least 24 hours) between coats. See photo C.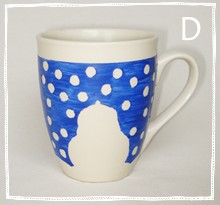 &nbsp
Step 9:
After it has dried completely, carefully remove all masking tape and adhesive labels.
See photo D.

Step 10:
Outline the snow drifts, the snowman, his arms and the words "Let It Snow" in the black outliner paint. See the photo below for details. Do this in stages so you are less apt to accidentally smudge an area that is still wet. Then use the red outliner paint to paint the nose, scarf, buttons and the heart.
Step 11:
Let it dry completely, at least 24 hours. After it is completely dry, bake your coffee mug according to the directions on the porcelain paint. This will set the paint.
Your coffee mug is now finished!
Homemade holiday gifts are more special to receive, and this painted coffee mug would make a wonderful gift.
For more easy homemade gift ideas, click the link below and return to the Christmas Crafts page.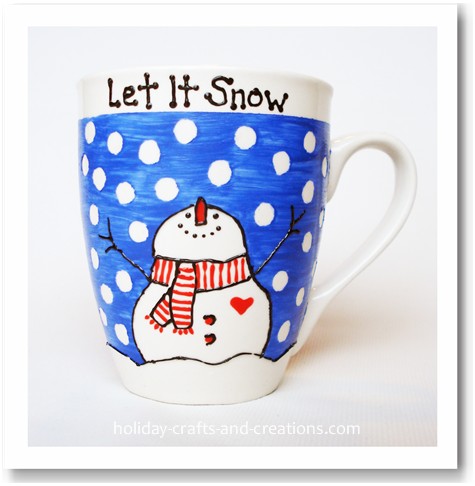 Return to Christmas Crafts from Easy Homemade Gift Ideas:
Painted Coffee Mug



Greta at Holiday Crafts and Creations Says:
To answer the question below, we bought our porcelain paint at Michael's Craft Store. Hope that helps!
anonymous Says:
very cool! where did you buy the porcelain paint?
Gabby Says:
This is super cute!! I love it!!
hina Says:
nice
Helene Says:
Thank you so much for sharing this beautiful design. I am going to give it a go for a Christmas gift.
ceres Says:
very creative...very nice...
Barbara Taggart Says:
love it
Happy Home Fairy Says:
This is just too cute! Thank you for sharing!
Anonymous Says:
kewl \\\\m/