Fathers Day Cards to Make:
"Vintage Photo Album" Design
Looking for ideas for Fathers Day cards to make? Why not try this cute idea? This card was designed to look like an old vintage photo album and it's a fun card to make, especially if you enjoy scrapbooking projects. We also provide two different photo choices for the card, but you could also use any of your own photos too. So just follow our simple step-by-step instructions and you'll have the cutest card ever to give to your dad! And besides, there's nothing like homemade Fathers Day cards to make your dad feel special!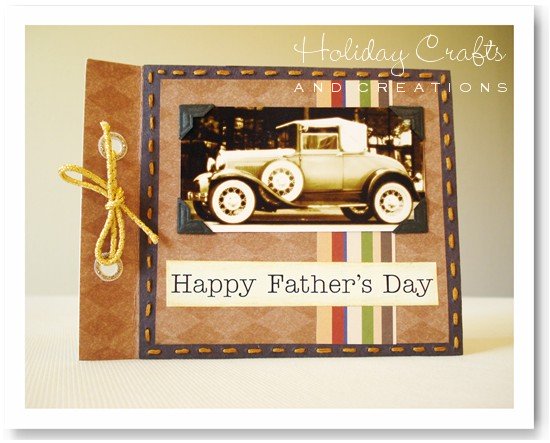 ---
Materials for These Homemade Card Ideas
Cardstock
Scrapbook paper: brown, black, and stripes
Glue stick
Scissors
Ribbon or cord
Brown embroidery thread
Needle
Photo corners (optional)
Paper hole punch
---
Instructions for These Homemade Card Ideas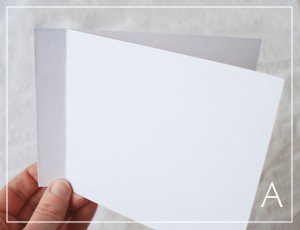 Cut a piece of cardstock paper
4 ¼" X 11" and then fold this in half. Next, draw a line ¾" in from the folded edge. Then fold along that line to form the "hinge". Now, using stick glue, glue this "hinged" area together so that the card will now open up like a photo album cover. See photo A.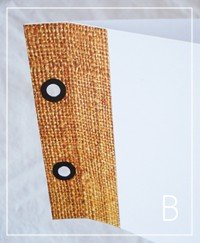 Cut a piece of brown scrapbook paper 1 ½" X 4 ¼". Glue this piece of scrapbook paper to the hinged side of the card. Next, using black paper, cut out two circles that are about ½" in diameter. Glue these circles down along the folded side of the card, centered on top of the brown paper you just glued on. Give the glue a few minutes to dry, and then use a paper hole punch to punch a hole in the center of each black circle. See photo B.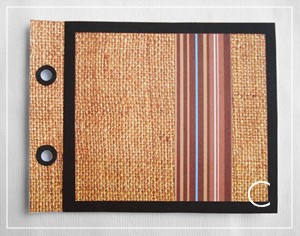 Cut a piece of black paper that is 4 ¼" X 4 ¾", and glue it to the card's cover. Then cut another piece of brown scrapbook paper that is 3 ¾" X 4 ¼". Then glue this piece down in the center of the black paper, leaving ¼" border of black around the brown piece. Now cut a piece of striped scrapbook paper that measures 1 ¼" X 3 ¾". Glue this piece down vertically on the brown paper, a little off-center to the right. See photo C.

With brown embroidery thread, stitch around the black border edge using the running stitch. See photo D.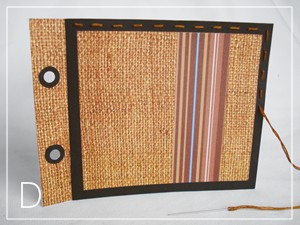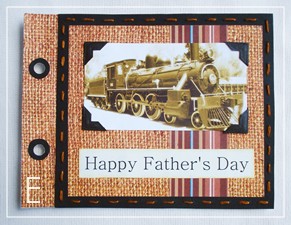 Glue the photo and the "Happy Father's Day" words to the cover. Either print the photos and words that we provide or you could use one of your own. To glue the photo onto the cover, either use photo corners like we show in our example or you could simply glue the photo itself onto the cover. See photo E.

To finish the card, tie a ribbon or cord through the holes.
Scrapbook Card Ideas for Dad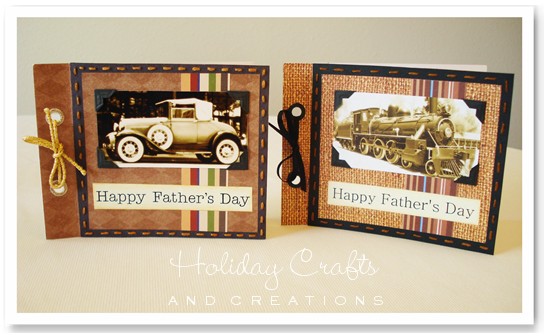 We hope you enjoyed this "photo album" design idea and for more ideas for Fathers Day cards to make, click the link below. We also have homemade greeting card ideas for some of the other holidays, so be sure to check them out too!


Return to Father's Day Crafts from Fathers Day Cards to Make: Vintage Design


natalie Says:
it will be a great gift for dad's on fathers day
Emma Says:
That is so perfect and no doubt what I'm giving to my dad this year!
dhwani Says:
a really heart-touching card !