Free Halloween Printables:
Party Treat Bags
If you are looking for some Halloween candy bags for your party, these free Halloween printables of skeleton hands are a fun idea. Turn ordinary disposable gloves into spooky skeleton hand treat bags. With our provided template, they are very simple and easy to put together. They are sure to be a hit at your Halloween party!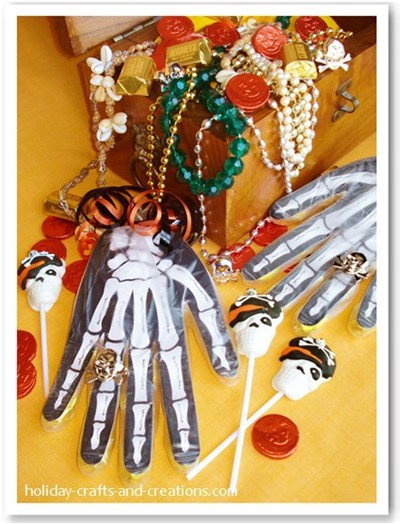 ---
Materials for Free Halloween Printables:
Party Treat Bags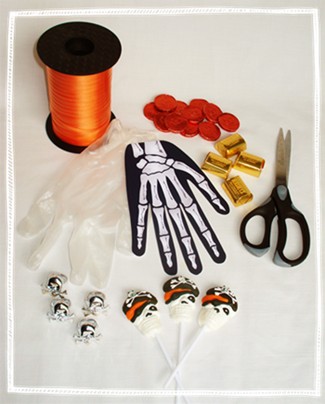 What You Will Need:


Vinyl disposable gloves
Curling ribbon (orange or black)
Scissors
White cardstock or photo paper
Wrapped candy
Party favor rings                                                                             &nbsp

---
Instructions for Free Halloween Printables:
Party Treat Bags
Step 1:
Print and cut out the skeleton hand template on white cardstock or photo paper. Using photo paper will give it a really sharp image.
Step 2:
Slightly roll the cut out hand so it can be slipped into the vinyl glove a little easier. Once the hand is in the glove, make sure to work out any wrinkles or bunched up areas of the glove so it is nice and flat.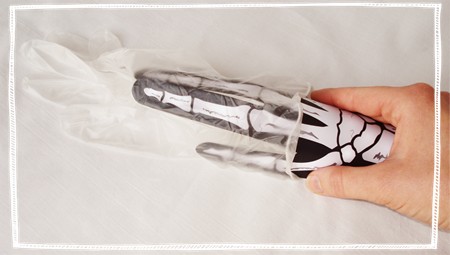 Step 3:
Now fill the glove with wrapped candy and party favors. We suggest you use wrapped candy because the gloves are not meant to be used for food. Be sure the candy is placed behind the hand image so it can still be seen. The more candy you stuff into the hand the tighter it will be, making the image easier to see through the plastic. All the kids are sure to appreciate this too!
Step 4:
Now tie off the glove with a piece of curling ribbon. You could use both black and orange for a festive Halloween look.
Step 5:
To add a finishing touch to these spooky Halloween treat bags, add a party favor ring to one or more of the fingers. As you can see, we used skull and cross bone rings. Other ideas could be bat rings or spider rings. Now your party treat bags are done and ready to scare up some fun for Halloween. Hopefully these spooky candy filled bags will be a hit at your party!
There are a few different themes that these Halloween candy bags could be used for. We went with a pirate theme, which would be great for a boy's Halloween party. To go along with this theme, we bought pirate suckers, skull rings and pumpkin coins. All of these things and other fun Halloween candy can be found at OrientalTrading.com. We were quite pleased with the quality, and the suckers were especially good. We definitely would recommend them.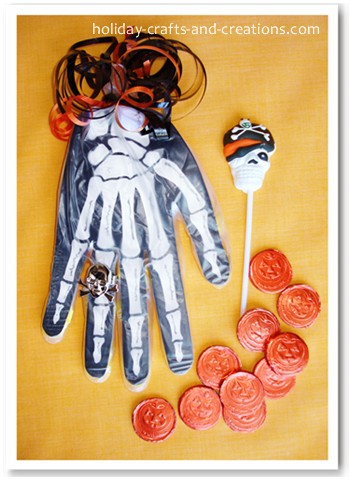 For more ideas for Halloween party treats or favors, click the link below.

Return To Halloween Crafts from Free Halloween Printables:
Party Treat Bags



Kelli at Holiday Crafts and Creations Says:
Hi Micha! We just used basic disposable latex gloves that you would find in the cleaning section of most any grocery store. Try one of the major grocery stores in your area and they should be able to help you find them.
Micha Says:
Any tips on where to find these plastic gloves? I can't find them in any stores, and I'd really like to not have to order them in bulk online!
Pam Says:
What a great idea love it
abbey Says:
i am so using this for my party
Jessie Says:
I love this idea! I was looking for something fun I could make for my son's Halloween party at school and I think I have found it!! Thanks for the free skeleton hand template!
Kate Says:
What a quick and easy idea. LOVE IT!
---