Free Halloween Printables:
Votive Candle Wraps
Here you will find some cute and free Halloween Printables. These votive candle wraps make great homemade Halloween decorations for little to no cost. If you already have some clear glass votive candle holders, great! If not, you can find these fairly cheap at a dollar store or discount store. We found ours for only a dollar a piece at a local dollar store. It is best to use these wraps on a candle holder that has straight sides rather than tapered.
Once you have some votive candle holders, simply print out the design of candle wraps you would like and cut them out and tape them on. Just be sure to not tape the wrap too close to the top of the holder, as these could become a fire hazard.
Tip: Print these out on regular printer paper. This way the paper is thin enough so that the light from the candle will glow through the paper. Also, use tealights rather than regular votive candles so the flame is right behind the image rather than above it.

---
                       Cat & Pumpkin Set (Click here to open PDF file)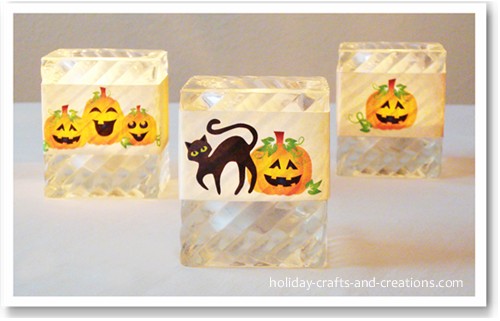 Haunted House set (Click here to open PDF file)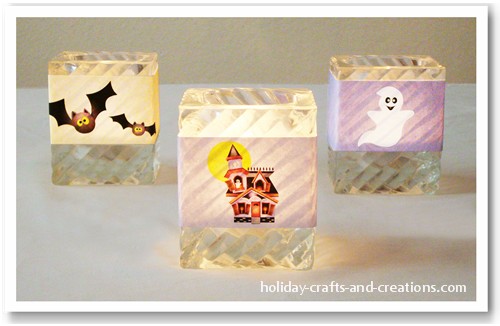 So if you've been looking for some candle craft ideas for Halloween, we hope you'll give these candle wraps a try. They would also make quick and cheap party decorations.
For more printable Halloween crafts, click the link below.
Return to Halloween Crafts from Free Halloween Printables: Votive Candle Wraps