Christmas Gift Basket Ideas For Men:
Paint Can "Basket"
Looking for some Christmas gift basket ideas for men? Well, here's a fun to make gift basket idea that most guys are sure to like. It's a decorated paint can that you can fill with small tools, his favorite gourmet coffee or chocolates, or maybe some homemade goodies and a gift card to his favorite store. So whether you need some ideas for your dad, husband, brother, son, or it's some homemade boyfriend gift ideas you need, we hope you'll find the gift-giving inspiration you are looking for.
Christmas Gift Basket Ideas For Men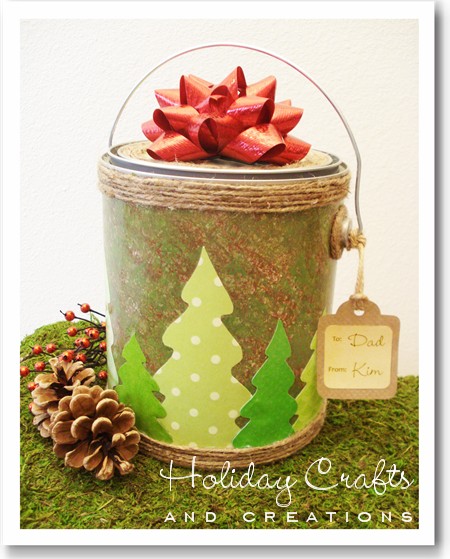 ---
Materials
Metal paint can (can be found at Home Depot)
Acrylic paint (at least two colors or shades)
Sponge
Mod Podge
Lightweight scrapbook paper
Jute
Scissors
Paint brush
Hot glue gun
---
Instructions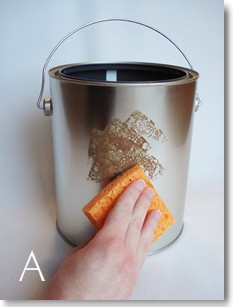 Using a sponge, apply your first color or shade of paint to the can. For the same design we made, use brown paint for this step. Then let this coat dry. See photo A. Then sponge on the next color; in this case, green. See photo B to see how the can should look at each coat.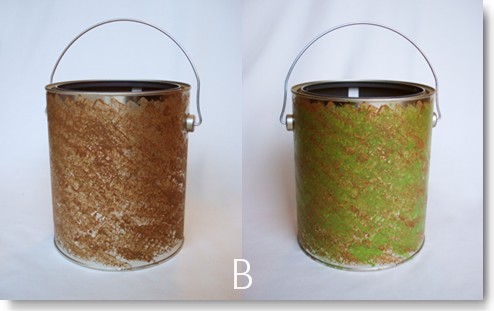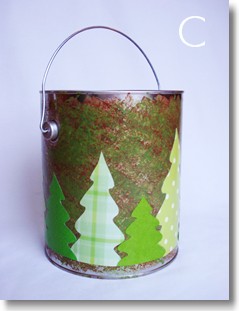 Print and cut out the tree template. You can use all sizes, or just a few. Using a variety of prints and designs of green scrapbook paper, cut out your trees. Using Mod Podge as your glue, put one tree on the can at a time. Place the trees up about ½" from the bottom of the can. Continue this until there are trees all the way around the can. See photo C. Once this has dried, apply a second coat of Mod Podge to the entire can. This will give the can a glossy coat, and help the trees to stay glued down.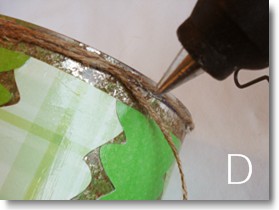 You will now be hot gluing jute to the bottom edge of the can. Begin by gluing the end of the jute to the very bottom of the can, and then wrapping the jute around the can and gluing it down as you go. We wrapped the jute around 5 times, but this is up to you. Just be sure you get it high enough to hide the bottoms of the trees. Then repeat this step with the top edge of the can. See Photo D. You can also wrap jute around where the handles connect to the can. See photo E.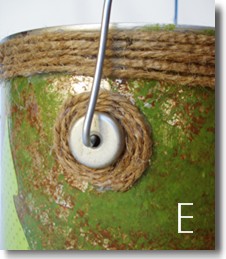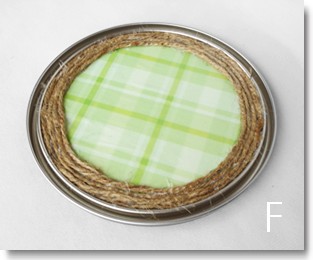 Now to decorate the lid, cut out a circle of scrapbook paper to fit the top. Then use Mod Podge to glue this paper down. Be sure to give it a top coat so it is glossy. Once this has dried, hot glue jute around the outside rim of the lid as you did with the can. Again, go around as many times as you think looks appropriate. See photo F.
Your woodsy looking gift basket is now finished!
Of course this is just one idea on how you could decorate this paint can "basket". The main idea is to be creative and to decorate it any way you like. Try to decorate it to match your guy's hobbies or activities. Some ideas would be to print out his favorite team's logo and apply that image on the can, or images of cars or boats, their pets, or just paint some funky abstract designs, or even a Christmas theme. After you decorate the paint can, fill it up with some of his favorite things.




Some Gift Ideas:
Small tools
Movie tickets
Sporting event tickets
Gourmet coffee gifts
His favorite candy or chocolates
Homemade goodies
"Beer of the month" gift certificate
"Wine of the month" gift certificate
Winter gloves or hat
Novelty tee shirts
Personalized coffee mug
Gift card to his favorite store
For more Christmas gift basket ideas, click the link below.

Return to Christmas Crafts from
Christmas Gift Basket Ideas For Men: Paint Can "Basket"
---