Halloween Printables:
Pumpkin Party Glasses
Halloween Printables: Pumpkin Party Glasses
Have you been looking for some Halloween food ideas for your party? Well don't forget about the Halloween party tableware! These pumpkin glasses would make a fun way to serve your guests their drinks. These pumpkin Halloween printables will turn your basic drinking glasses into cute pumpkins for your Halloween Party! Provided on the template are a variety of jack-o-lantern faces that you can feel free to mix and match. There are two sizes of faces so you can decorate regular glasses or a large pitcher. Also included on the template are leaves in several sizes. Some optional materials you may use for this idea are green straws and green curling ribbon for around the leaves.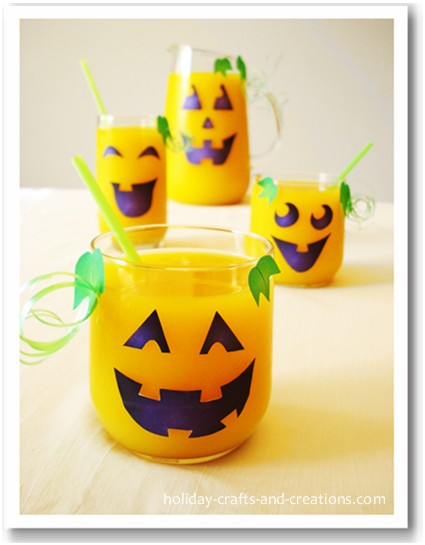 The first step is to print out the Pumpkin Faces Template and cut out the faces you would like. Then apply double sided tape to the back of each piece, trim as necessary, and place on your glass.
Tip: If you plan on making many of these for a large party, you may consider purchasing full sheet white shipping labels to print the pumpkin faces on. This will make the project much faster, as you can cut out the pieces and stick them on without needing to bother with double sided tape.
For the curling ribbon, cut a small piece and curl it, and then tape the end of it to the rim of your glass. Then tape a leaf over the top. If you are not using curling ribbon, simply tape the leaves near the rim of each glass.
Drink Suggestions: Be sure to fill up your glasses with an orange drink. You could try orange soda, orange Kool-Aid, orange juice, or an orange punch.
So to give your Halloween party food a finishing touch, why not try these adorable pumpkin glasses.
We hope you have enjoyed this project and will use it to lighten up your Halloween Party!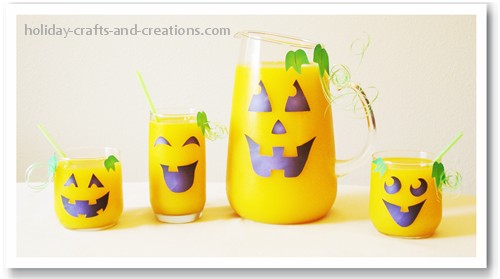 To check out more ideas for Halloween party treats and favors, click the link below.

Return to Halloween Crafts from Halloween Printables: Pumpkin Party Glasses



SANDRA Says:
PARA HACERLE UNA FIESTA DIFERENTE A MI NENE. GRACIAS POR LAS IDEAS. (To make a party different than my nene. Thanks for the ideas)
Maritza Rojas Says:
EXCELENTE!!Maravillosa idea la tomare. Gracias por compartir. (EXCELLENT!! Marvalous idea to take. Thanks for sharing)
adrienne Says:
This is a GREAT idea!!!
adrienne Says:
JUST what I needed!!!! Thanks
amy Says:
this is so so cute. you come up with cute ideas. i can weight to use this great idea for my family. it is so cute! this will make my holiday very complete this year. :)
hanny Says:
cute and fun idea
Evelyn Says:
Awesome! Thanks for the cool idea. I love your website, you guys rock!
abbey Says:
my cousin is having a party and i cant wait to tell her the idea
abbey Says:
i cant wait to use this
Abby R. Says:
CUTE!! Great idea!
Emily Says:
This is such a cute party idea!!
---