Handmade Christmas Card Ideas:
Sponge Stamped Holly
This "Holly Jolly" card is one of our easiest to make handmade Christmas card ideas. And these cards are also really fun to make too! Just simply stamp the holly image onto your card with a sponge. It's so easy, it would make a great family project to do with your kids. So if you want to make your own Christmas cards this year, why not try these sponge stamped holly cards?!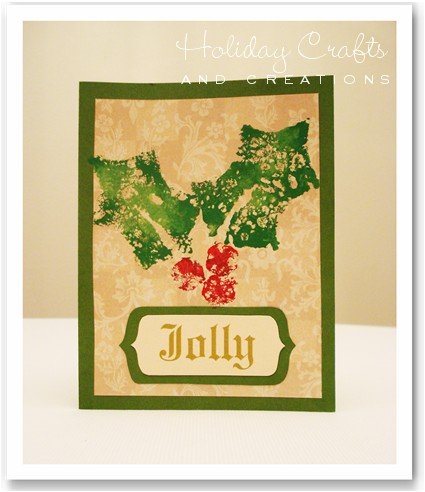 ---
Materials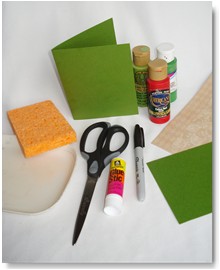 Green cardstock (folded into a 4 ¼" X 5 ½" card)
Tan cardstock or paper
Scrapbook paper: light brown or yellow
Sponge
Scissors
Marker
Green and red acrylic paint
Glue stick
Paper plate or paint palette
A2 envelope (4 3/8" X 5 ¾")
---
Instructions

Print and cut out the Holly Jolly template on tan cardstock. Be sure to print in color so "Jolly" appears gold. Trace the holly leaf and berry onto the sponge with a marker or pen. See photo A.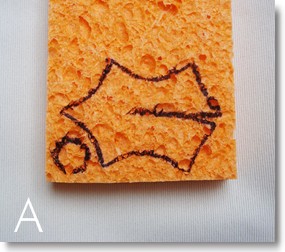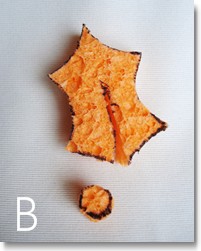 Cut out the holly leaf and berry from the sponge. See photo B.



Your card should be 4 ¼" X 5 ½". So to get this, cut a standard 8 ½" X 11" sheet of green cardstock in half, widthwise, and then fold one of the pieces in half.
Then cut out a piece of your light brown scrapbook paper that is about 3 ¾" X 5". Using a glue stick, glue this piece down to the front of your card. See photo C.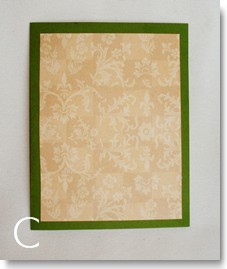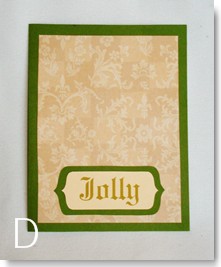 Now, using the template you printed out earlier, cut out the word "Jolly" using the line around it. Then cut out the larger outline and trace this onto a scrap piece of your green cardstock, and cut it out. Glue the "Jolly" cut-out onto the green cut out, and then glue this to the bottom of your card. See photo D.



Put some green paint on your paper plate or palette. We used two shades swirled together a little. Dip the holly sponge in the paint and make sure that the sponge is completely covered in paint. See photo E. Then blot the sponge a few times on a scrap piece of paper to get some of the excess paint off. See photo F.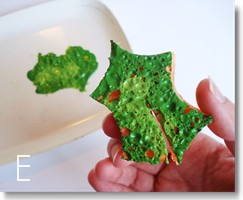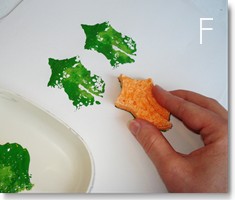 When you think the sponge has just the right amount of paint on it, stamp the leaf onto your card. Then, for the second leaf, we decided we wanted the leaf to be the mirror image, so we washed off the sponge and then used the other side of the sponge for the second leaf. This is optional, as you could just use the same side of the sponge again. Then get out some red paint (we mixed a little green into it to soften the red) and stamp three berries where the holly leaves meet. See photos G and H. Your card is now finished!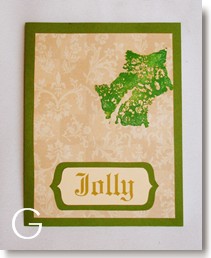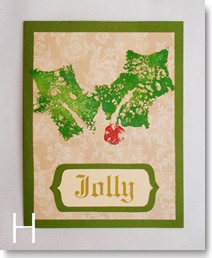 Note: This card takes an A2 envelope, which measures 4 3/8" X 5 ¾", which is a fairly common size envelope.

Handmade Christmas Card Ideas: Sponge Stamped Holly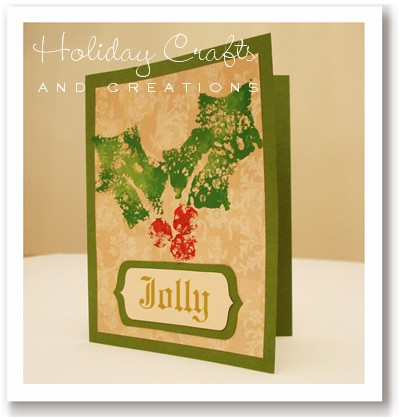 We hope you liked our Holly Jolly card idea! And if you plan to make your own Christmas cards this year, maybe this was just the idea you were looking for. If not, we have other handmade Christmas card ideas that you might like, just click the link below. Also, we have many more homemade greeting card ideas for all the other holidays too, so be sure to check them out!


Return to Christmas Crafts from
Handmade Christmas Card Ideas: Sponge Stamped Holly
---

Vicki Funes Says:
So elegant! Friends would surely keep this card for years to come.