Homemade Christmas Card Ideas: Wreath
Feeling crafty and want some homemade Christmas card ideas? Well, how about this cute wreath greeting card made with scrapbook paper and buttons! It's a darling idea and it is sure to bring joy to someone's Christmas. So just follow our easy step-by-step instructions and you'll have a special handmade card that anyone would love to receive!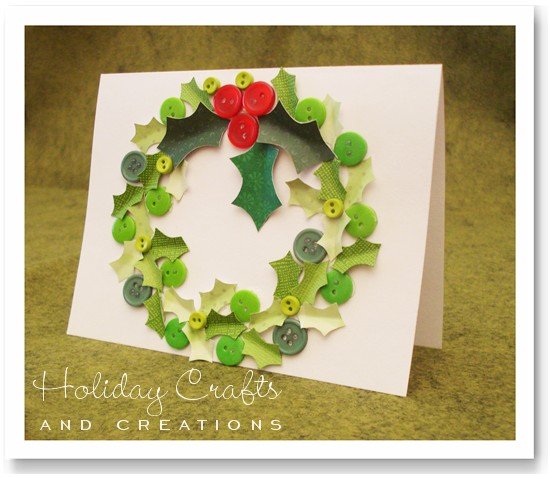 ---
Materials For
Homemade Christmas Card Ideas : Wreath Card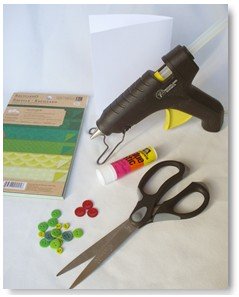 Green scrapbook paper (various shades)
Three red buttons (about ½" wide)
Handful of green buttons (various sizes and shades)
Hot glue gun
Stick glue (optional)
Scissors
White card stock (folded into a 4 ¼" X 5 ½" card)
---
Instructions For
Homemade Christmas Card Ideas : Wreath Card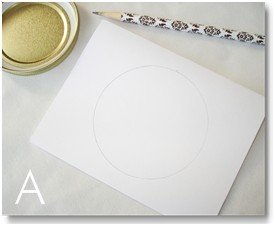 Begin by drawing a circle in the center of your card. You can do this either freehand or by tracing something like a lid. Make the circle about 3" across. Ours was 3 ¼" across. See photo A. You now can begin tracing and cutting out holly leaves from the provided template. Cut out three large leaves in a dark green, and cut out roughly 26 small leaves in various shade of your lighter green scrapbook paper. Crease all of your leaves down the center lightly.

Get your hot glue gun warmed up. Glue your three red buttons at the top of the circle. Place two evenly in line with the circle, and the third centered below them. Next you will be gluing down the three large leaves. You can do this with either hot glue or a glue stick. We used hot glue since it was faster, and allowed us to glue the leaves down on the folded crease, so both sides of the leave can stand up from the card. Glue your three leaves in place, two of them pointed down the sides of the circle, and the third pointing down more in the center. Then begin gluing your smaller leaves lengthwise around the circle. See photos B and C.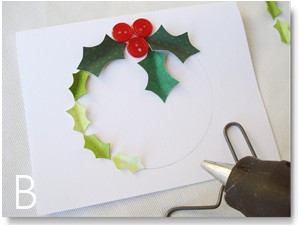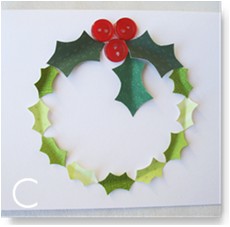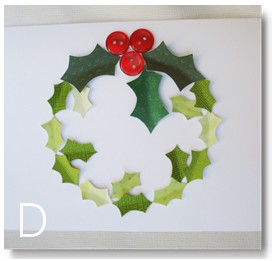 Now that you have the basic structure of your wreath, begin gluing more of the small leaves on the inside of the wreath. As you can see from photo D, we used five leaves, and glued them down evenly spaced, pointing counter clockwise.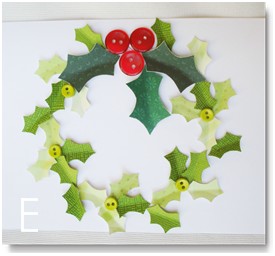 You can now start arranging your leaves around the outside of the wreath. Same as before, we glued them down pointing counter-clockwise. We used a total of 12 leaves to go around the outside. See photo E. As you can also see in this photo, you will next take your smallest green buttons and glue a few around the holly at some, or all, of the places where they meet around the circle you drew. This helps hide some of the gaps that might be there, and also gives it a more polished look.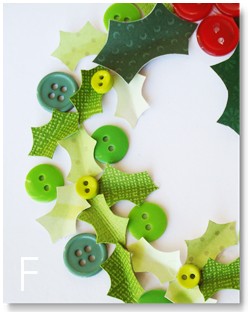 Now to finish your wreath, arrange the rest of your larger green buttons around the gaps of your wreath. Lay them out before you glue them down, just to make sure you like the way they have been arranged. Try to glue them in against the leaves as close as possible, so they look like they are part of the wreath. See photo F.
You are now done with your wreath card!
We hope you liked this greeting card idea and it inspired you to give it a try. Card making can be a really fun and gratifying hobby because homemade cards are always the best ones to give and receive! We also have some scrapbook card ideas for some of the other holidays too, so be sure to check them out. And for more homemade greeting card ideas for Christmas, click the link below.



Return to Christmas Crafts from
Homemade Christmas Card Ideas: Wreath Card
---

priya Says:
wow its superb!! I enjoyed a lot while making this card..
Ileana Says:
This is just wonderful, I love it!!!
Teresa Says:
Love this-looks easy enough for the kids to do at the school I work at!