Homemade Gifts For Dad:
Painted Coffee Mug

Finding ideas for homemade gifts for dad that he will actually like and use can sometimes be difficult. But a hand painted coffee mug is something he is sure to use, and you can personalize it in any way you want.
For our example design, we used masking tape to create crisp patterns and shapes. Once the tape is in place, the mug is really easy to paint. Even a young child could probably paint the mug after having help to place the tape. To make it an even sweeter gift, you could fill it with your dad's favorite candy before giving it to him.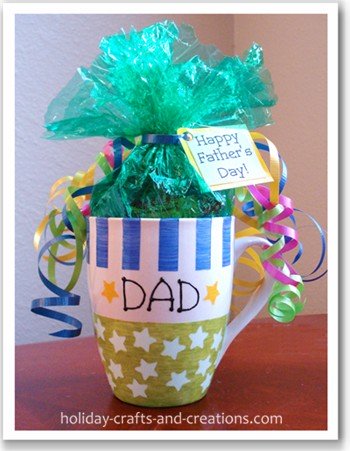 ---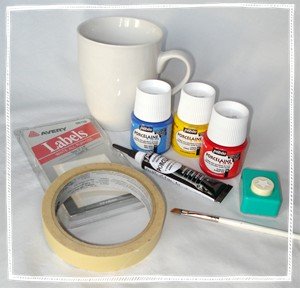 What you will need:
White mug (Usually can be found at a dollar store)
Porcelain paints – We used Porcelaine 150 by Pebeo (Tip: To save money, buy the primary colors – red, blue, yellow – and mix them to create any other colors)
Porcelain outliner tube paint – We used Porcelaine 150 outliner tube (Get this to write words with)
Paintbrush
Masking tape
Paper punch of any design (we used a star)
Adhesive mailing labels
---
Homemade Gifts For Dad:
Painted Coffee Mug Instructions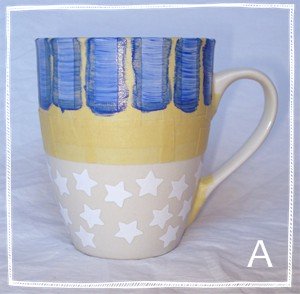 Step 1:
Wash and dry the mug.
Step 2:
Place a strip of masking tape around the mug, 1" down from the rim. Place strips of masking tape along this top 1" section going vertically to create stripes. Cut the masking tape in strips to whatever size width you would like the stripes. We used 3/4" wide masking tape and then cut our strips in half. See photo A.
Step 3:
Place a strip of masking tape around the mug, 2" up from the bottom. Be sure to press the tape down well so the paint won't bleed under the edge of the tape.
Step 4:
Now using whatever shape paper punch you want, punch out the shapes using adhesive labels. You could try using masking tape, but the sticky side of the tape may jam up the punch. Place the shaped stickers along the bottom 2" section of the mug. Remember to press them on firmly. See photo A
Step 5:
The mug is now ready to be painted. It is probably better to do two lighter coats than to do one heavy coat. Let it dry to the touch between coats.
Step 6:
After the paint has completely dried, carefully remove the masking tape and shaped stickers.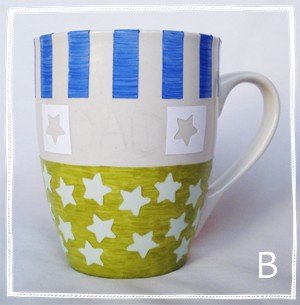 Step 7:
Now that the masking tape is gone, sketch in pencil "DAD" in the blank center strip so you will know where you want it to go. Then punch out the shape you were using twice more in the adhesive labels. Only this time cut out around the punched image so you are left with a stencil of the shape. You won't be using the punched out sticker this time. Place one of these stencils on each side of the word "DAD", see photo B. Then paint in these stencils. After the second coat has dried, remove the stencils.
Step 8:
To write on the word "DAD" we used a tube of black paint rather than using a paintbrush so that it would be easier to write with. After writing "DAD" where you want it, the painting of the mug is finished. Let dry 24 hours before baking.
Step 9:
Bake the mug in the oven for 35 minutes at 300°F. Your mug is now done!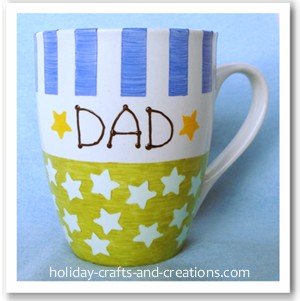 We hope you have enjoyed this idea! For more homemade gifts for dad, please click the link below and return to the Father's Day home page.
Return to Fathers Day Crafts from Homemade Gifts For Dad: Painted Coffee Mug

Kelli from Holiday Crafts and Creations Says:
Hi Yash, The only paints we know of for painting ceramics need to be baked on. It helps to seal on the paint so it won't wash off. If anyone knows of a paint product that does NOT need to be baked on, please let us know, we would really appreciate it, thanks!
yash Says:
can u suggest some paints without having to use the oven
meryam Says:
that is off the hook
Emma Says:
Perfect again totally the perfect gift
richa Says:
very nice idea :)
lauren Says:
wow this is an awsome gift for your dad I hope he liked it. You did a awsome job and I bet you did take you time.
danielle Says:
this is too cute!!!!!