Homemade Mothers Day Gifts:
Flower Frame
If you have been looking for ideas for homemade mothers day gifts, we hope you will give this one a try. This felt frame is a nice way to show your mom how special she is and how much she means to you. It is a very inexpensive project and pretty easy to make, but will mean a lot to your mom! Most felt projects like this one are easy, and with a little help, would be a great gift for even a young child to give to their mother.
This felt frame also is a great project for giving old frames a new look. If you have any frame that's outdated or you just no longer like, this project will give it a new look. If you don't have any old frames, try searching a dollar store for a cheap frame to use.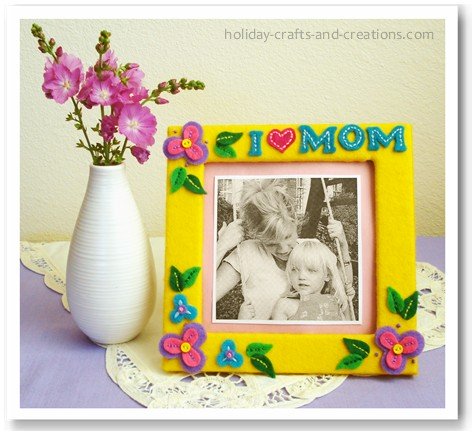 ---
Materials for Homemade Mothers Day Gifts:
Flower Frame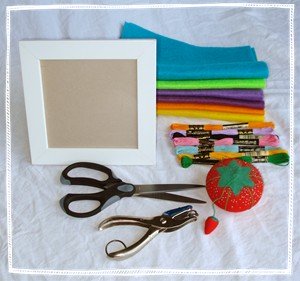 What you will need:
Felt in colors of your choice
Embroidery thread (to match or contrast felt colors)
3 tiny yellow buttons (about 1/4" to 3/8")
Straight pins and needle
Scissors
Paper hole punch
Paper and pencil
Frame
Note: The frame should have a flat border that is at least 1" wide. Anything narrower will be a little too small to sew on decorations. We used a frame with a 1" border for this project, but wider will also work.

---
Instructions for Homemade Mothers Day Gifts:
Flower Frame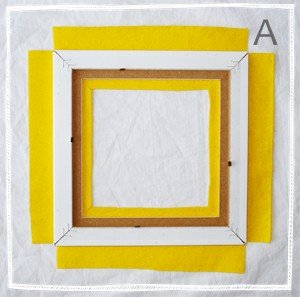 Step 1:
Lay your frame (without glass or backing) on your felt that is going to cover your frame.
Now measure and draw a line around the outside and inside of the frame that is at least 1" away from the edge. If the border of your frame is wider than 1", draw your line even farther away from the frame's edge. You want to be sure that there will be enough felt on the outside and inside of the frame so when wrapped around the frame, they can be sewn together. See Photo F to see what we are talking about. Then cut the felt along your drawn line. See Photo A.
Step 2:
Now that you know where the frame will be, cut out a notch on the outside corners, and make a diagonal cut to the inside corners. See Photo A. This is done so you can later easily wrap the felt around the frame.


Step 3:
Now stitch an outline of the frame onto your felt. This will make it much easier to know where to stitch on the decorations. These stitches will be removed later before you attach it to your frame. To make this outline, make a paper pattern of your frame by tracing around the inside and outside of your frame onto a piece of paper. Cut this pattern out, center it on your felt and pin it on. Make large stitches along the inside and outside border of the pattern, and then remove the paper pattern. See Photo B.
Step 4:
Print the flower and letter template provided (PDF file), and select the size flowers and letters that will best fit your frame. Cut the flowers and letters out of the felt colors of your choice. To make the small circles that are the center of the blue flowers, we just used a paper hole punch. This does a pretty good job of punching through the felt, but you may have to trim the circles a little if it didn't punch all the way.
Step 5:
The best place to start sewing is in the bottom corners, and work outward from there. See photo C for layout design. We used contrasting thread colors so the stitches are more visible. Seeing the stitches can add to its charm! All the flowers, leaves and letters are sewn on using a back stitch.
Start by making the three large corner flowers. Stitch the smaller center flower onto the larger flower using the back stitch. Then simply attach the layered flower to the felt frame by sewing it down with your tiny yellow button. Next make three French knots around the large flowers in the corners. See Photo C and D.
You can now start to work out from the corners. Next do the two small flowers. See photo D for placement. Sew the small flowers onto the felt frame by making one stitch in each of the three petals. Using a paper hole punch, punch two circles. Sew the circles onto the center of the small flowers using a French knot. See photo D.
Now cut out 6 dark green leaves and 6 lighter green leaves. Using a contrasting green thread, sew the leaves on using the back stitch. See photo C for placement. After cutting out the letters and the heart, sew them on using the back stitch.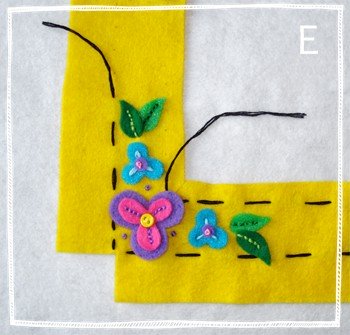 Step 6:
After you have sewn on the letters, remove the large outline stitches (ours were black). See Photo E. Now it's ready to be stitched onto your frame.
Line your frame up on the felt and wrap the inside and outside edges around the frame. Now start stitching the two edges together using a whip stitch. See Photo F. While you're sewing, check the front every so often to make sure it's lined up properly along the frame. You may have to cut some small holes in the felt, depending on the types of flaps on your frame that hold the glass and photo in. Once the back is finished and tied off, your frame is all done and ready for your favorite photo of your mom.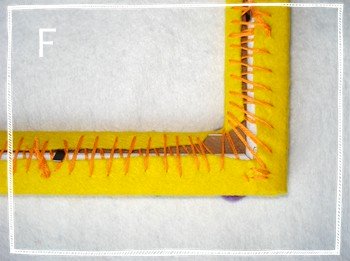 ---
We hope you liked this felt frame gift idea. For more homemade Mothers Day gifts, click the link below.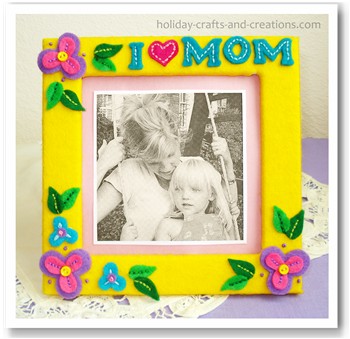 Return to Mothers Day Crafts from Homemade Mothers Day Gifts: Flower Frame
gloria Says:
love it
mariam Says:
very nice
okok Says:
pretty
m0therkiss Says:
Very good Idea.
Kelli at Holiday Crafts and Creations Says:
We'd love to hear your idea Nashrah :)
Nashrah Says:
it is gr8 nd awesome idea....
Nashrah Says:
nice but i have a better and easy idea to make it without stitching at the back and without a frame....
shilpa Says:
priceless gift
cole Says:
nice .........luv it<3
ana Says:
this is soo awsome
tom Says:
it was very good
Debbie Says:
I love this idea, its really cute!!
nawal Says:
nice yar u are very intelligent........:P
Homemade Mothers Day Gifts: Flower Frame