Homemade Party Favors:
Peanut Butter Marshmallow Treats
These yummy treats make great homemade party favors for your St Patricks Day party. If you are looking for some fun party food that's sure to be a hit with the kids, then try these festive peanut butter marshmallow treats.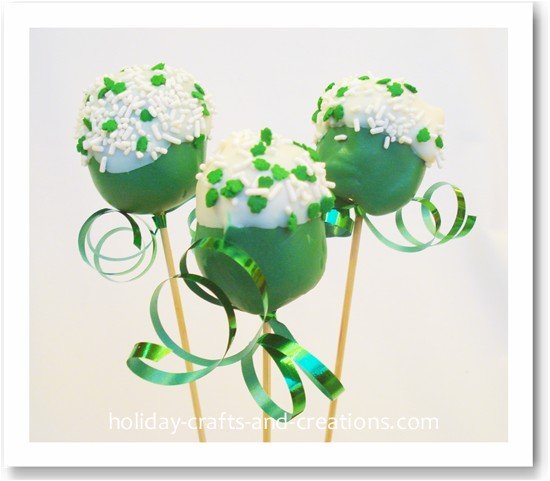 ---
Materials For Homemade Party Favors:
Peanut Butter Marshmallow Treats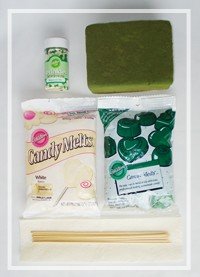 What You Will Need:
Wooden skewers
Floral foam
Treat ingredients:
Candy melts (green and white)
Marshmallows
Peanut butter
Graham crackers
Powdered sugar
Butter
Shamrock sprinkles
---
Instructions For Homemade Party Favors:
Peanut Butter Marshmallow Treats
Step 1:
Make the peanut butter mixture:
1/2 cup butter (melted)
1 cup powdered sugar
1/4 cup graham cracker crumbs
1/2 cup peanut butter
Mix all ingredients together
Step 2: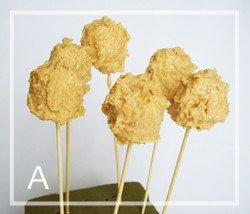 Insert a wooden skewer into each marshmallow. Then coat each marshmallow with the peanut butter mixture. It will be a little messy, but it is probably easier to just use your hands to evenly coat each marshmallow in the mixture. Once the marshmallow is evenly covered, stick the skewer into your floral foam to hold it upright. See photo A.
After they are all done, refrigerate them until the peanut butter coating has become firm.
Step 3:
Melt the green candy melts in a double boiler or microwave according to the package instructions.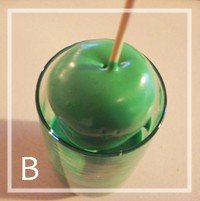 Step 4:
Dip or roll the treats into the melted candy. You may want to pour the melted candy into a drinking glass to make it deeper and easier to dip the treats into the candy. See photo B. Do this as quickly as you can because the peanut butter may start to get soft in the hot candy.
Step 5:
After you have dipped each treat, stick them in the floral foam to hold them upright while they cool and harden. It is best to refrigerate them so the candy hardens faster.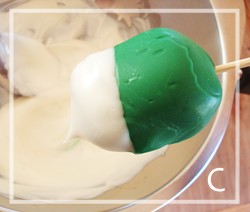 Step 6:
Once the green candy coating has hardened, melt the white candy melts. Then take each treat and dip the tip of it into the white candy. Do this as quickly as you can, or the green candy will start to melt into the white candy. See photo C. Immediately after dipping it in white, cover the top in your shamrock sprinkles so they stick in the hot candy. Then place the treat back into the floral foam and refrigerate until hardened.
Your peanut butter marshmallow treats are now done! Before serving them, you could tie green curling ribbon around the base of each treat to make them more festive!
So if you need some St Patricks Day party ideas for boys and girls, you can really serve up some fun with these marshmallow treats. We hope you enjoyed making this kids party food idea.
For more fun kids crafts, click the link below and see our other fun and easy craft ideas.
Return to St. Patrick's Day Crafts From Homemade Party Favors:
Peanut Butter Marshmallow Treats


---

Kelli from Holiday Crafts and Creations Says:
Hi Annie, I'm very sorry that they didn't work for you! They are a bit tricky, I will admit. With the peanut butter it's easiest to just spread it on, with your fingers even. Since you had trouble with it sliding off, I'd be sure to refridgerate them for a little longer. Then, when dipping it in the melted candy, try tilting the glass/container of candy and swirling it in at an angle so the marshmallow is less likely to pull off. Also you want to do this pretty quickly, because if the peanut butter heats up, it can start to pull off. I don't know if this was much help, and I do apologize that it didn't work for you!! It isn't the easiest thing to do!
Annie Says:
I tried to make these and the marshmallows slid down the skewer :-( what do I do?!?! I'm so bummed!!
Anonymous Says:
i am really trying this!!!!!!!!
Beth Says:
I can't wait until St. Patty's day to try these scrumptious treats!
Cool stuff Says:
I really like your blog and i respect your work. I'll be a frequent visitor.
hiso, russel vince Says:
wow i have tried this and its yummy!!!!!!!!!!!!!!!!!!!!!!!!!!!!!
---