Homemade Party Favors:
New Year's Eve Poppers
These homemade party favors are a really fun and festive idea, and are sure to be a hit at your party. They are very quick and simple to do, and would also make a really easy craft for kids too! Plus you could also use this same idea to make homemade birthday party favors.
These party poppers are also very inexpensive to make. And if you are tight on money after the holidays and were hoping to find some cheap party supplies, why not make your own party favors with this fun and festive idea?!
And then when the clock strikes midnight, your guests can pop open their party crackers filled with candy, trinkets, confetti or other surprises, and cheer Happy New Year!!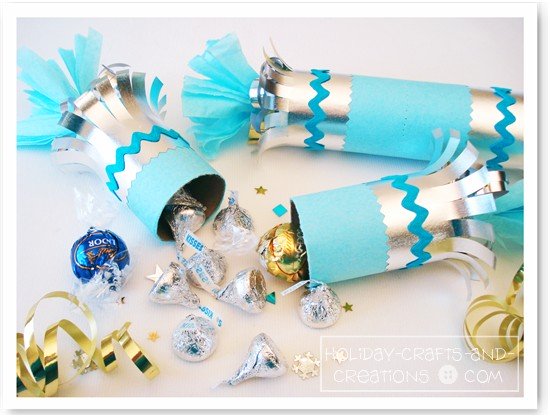 ---
Materials For Homemade Party Favors
Paper towel tubes
Wrapping paper / tissue paper
Curling ribbon
X-acto knife / Scissors
Tape
Pin or needle
Embellishments (ribbon, stickers, spray glitter, etc.)
Candy / party favors
---
Instructions For Homemade Party Favors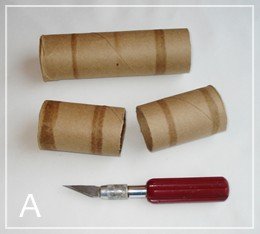 Using an x-acto knife or scissors, cut the paper towel tube in half. Each half will become its own popper. Then cut each of these tubes in half again, because each popper tube needs to be pre-cut before you wrap them. See photo A. So just to clarify, these four pieces of tubes will make two poppers.



Cut a piece of wrapping paper or tissue paper that's wide enough to wrap around the tube and long enough to have at least 2" of extra paper on each end of the tube. Place both halves of the tube closely together in the center of the wrapping paper. See photo B. Then wrap and tape down the paper.
Note: Don't place any tape along the middle portion of the poppers, so that they will be easier to pop open.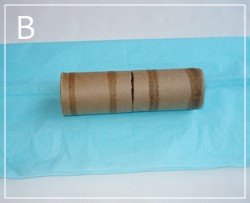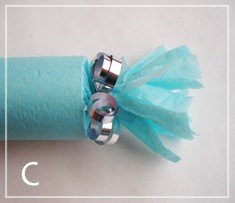 Tie one end closed with curling ribbon. Then use the other open end to fill the poppers with candy and other surprises. Once the poppers are filled, tie off the other end. Then cut the ends into strips. See photo C.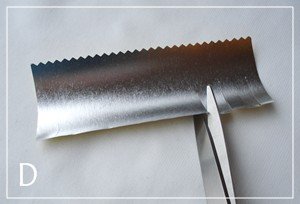 Cut pieces of wrapping paper about 2" wide and long enough to wrap around the tube. Then cut strips down the side of the paper that are about ¼" wide and about halfway in. See photo D. You will need two of these for each popper. Wrap them around the two ends of the popper so that the cut frills are hanging off the ends, and tape them down. See photo E. You may want to curl or bend the frills backwards a little so they flare up more.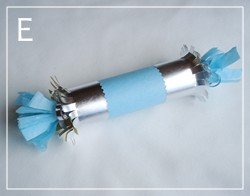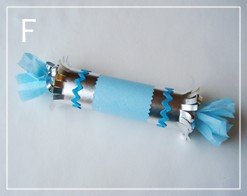 Decorate the poppers with ribbon, stickers, spray glitter or even write the year along the center. We embellished our poppers with ric rac trim. See photo F.

To make your poppers easier to pop open, perforate the paper by poking holes all around the center (where the tube was cut) with a straight pin or needle. See photo G.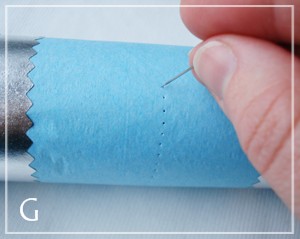 Your party poppers are now complete!

For more homemade party favors, click the link below.
Return to New Years Eve Crafts from
Homemade Party Favors: New Year's Eve Poppers



Melisa Says:
Thanks my daughter is 4 and she loved them
Ashley Says:
I was looking at store-bought poppers online and they are fairly expensive for the amount included(8 for $12), So i decided to try to make them! I made a test one(since i have nothing to stuff it with i would have to go buy stuffers)with napkin inside. Great instructions Thank you very much!
Ella Says:
Thanks I am 12 and that was great...my family loved them! :)
maddie Says:
hey im 11 and it was sooo easy thanks :D
Michele Says:
I was looking for a New Year's Eve project to do with a 4 yr. old. We are going to try this!
Christi Says:
This is the best instructions that I have come across. Thank you for the step by step instructions.
Janet Says:
Thanks for this easy tutorial. I just love this idea!
meha Says:
its very good.i like it