Homemade Valentine Cards: 3D Hearts
What could be more special or heartfelt than giving homemade Valentine cards? Valentine's Day is the perfect time to show how much you care by making your own greeting cards. And if you are looking for something different to make, then a fun idea is to use 3 D shapes to create unique looking cards! So if you need a bit of card making inspiration, then keep on reading and we'll show you how to make these really cute 3 D cards!
Homemade Valentine Cards: 3D Hearts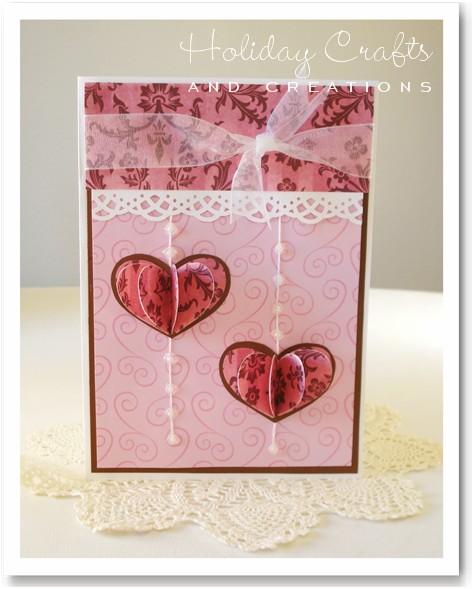 ---
Materials
White cardstock (folded into a 5" X 7" card)
Brown cardstock/construction paper
Scrapbook paper: Pinks and/or purples
Scissors
Glue stick or double sided tape
White shear ribbon (about 1" wide)
White embroidery thread
Pearl embellishment stickers or small pearl beads with glue gun
White puffy paint
A7 envelope (5 ¼" X 7 ¼")
Optional:
Edge punch or paper edger scissors
---
Instructions

Begin by making a 5" x 7" card from your white cardstock. Then cut out a 4 ¾" x 6 ¾" piece of brown cardstock or construction paper and tape this to the center of the card as in photo A. Now cut out a piece of light pink scrapbook paper that is 4 ½" wide. The length can be about 5 ½", but this isn't critical. It will then be taped down, centered at the bottom of the card, and the top will later be covered. See photo B.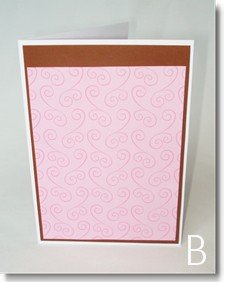 Now, if you have an edge punch or edging scissors, punch/cut out a length of white cardstock as shown in photo C. This piece will then need to be cut down to a strip that is about 1" or more wide, and 4 ½" long. Set this piece aside for now.



Next, cut two pieces of white embroidery thread that are each about 7" long. Then tape the end of each of them onto the top of the card, with them spaced about 2" apart. See photo D. Now take your white strip that you made in the previous step, and tape it down across the top of the card, about 2 ½" from the top of the card. See photo E.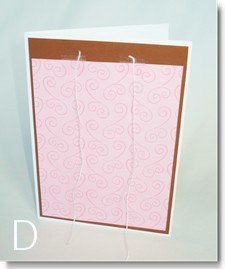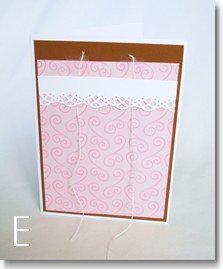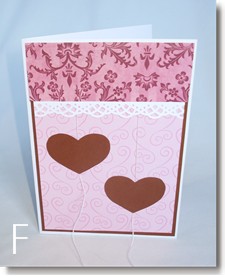 Finally, cut out a piece of dark pink scrapbook paper that measures 1 ¾" x 4 ¾", and tape this down at the top of the card, so the top of this piece is lined up with the top of the brown paper. See photo F.
Note: Before you tape this piece down, you may want to tape or glue a ribbon across the front as shown in the cover picture, and tuck the ends around the edge. This is not shown in the following photos, because we forgot to put the ribbon on until it was almost done :P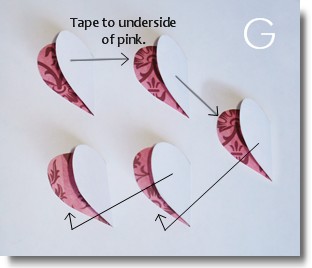 Now you will need to print out the heart shape template. Using the larger of the small heart templates, cut out two hearts in brown paper. Then, with the smallest heart, cut out 10 hearts in a dark pink scrapbook paper. Tape the two brown hearts down to the card, one over each of the threads. Stagger them so they aren't touching, again as in photo F. Then fold each of your pink hearts in half, with the pink side inwards. Then begin to glue or tape the white/back sides of the hearts together. The arrows in photo G are to help show taping the sides together. When you have 5 taped together, tape it down to a brown heart. See photo H. Then put several pearl stickers (or hot glue small pearl beads) along the white thread. We also put puffy paint around each pearl to enhance them, since they were rather small. And of course repeat this for the other thread as well.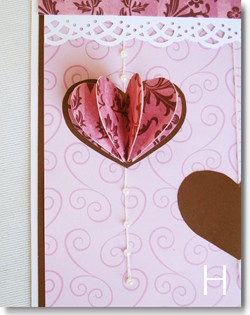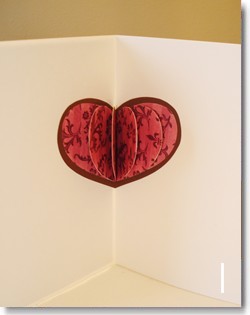 To add this 3D heart to the inside of the card, use the larger set of heart templates. See photo I. The only difference for this heart, is that you will have to also fold the brown heart in half, and line it up with the fold of the card. And then you can write your message around the 3D heart!

Your 3D heart card is now finished! And with this fun design idea you could make homemade Valentine cards for all the special people you know. Now that you know how to make these 3D hearts, you could get creative and design other 3 D cards for Valentine's Day. You could also use this card making idea with other 3 D shapes to create greeting cards for other holidays.

Looking for more homemade greeting card ideas? Just click the link below.
Return to Valentine Crafts from Homemade Valentine Cards: 3D Hearts
---

Laura Says:
This was fun to make and it actually turned out! Your instructions are great to follow. It took longer than expected (all those heart cut-outs) but well worth the effort :) Thank you.
pia Says:
i love it cause it has a instruction.i really want to make uhuh...
priti Says:
its a very good site for innovative ideas
chandan Says:
awsome card..... i'l definetly make this
simran Says:
its awesome! and easy too
carla Says:
so coool i love it making like 6 of these for my friend and family. love it totally recommend it really easy to make
sharon Says:
So cute! I want to make this
grace Says:
great very nice cards
Homemade Valentine Cards: 3D Hearts