Cookie dough (replace raw eggs with a pasteurized product like Egg Beaters or Scramblers)




---
Instructions For Homemade Valentine Ideas:
Cookie Dough Treats
Step 1:
Make your cookie dough with a pasteurized product like Egg Beaters, instead of raw eggs. This way you can eat your cookie dough safely!
Step 2:
Form the cookie dough into heart shapes about 1" to 1-1/2" wide. Then insert a lollipop stick into the bottom of each heart, about halfway into the heart. See photo A. Then refrigerate them for a few hours so the dough becomes firm.
Step 3:
Melt the candy melts in a double boiler or microwave according to the package directions.
Step 4:
Dip or roll the cookie dough heart into the melted candy (if you didn't melt very much candy, you will have to roll the heart around to get it covered). See photo B. Do this as quickly as you can, because the cookie dough will tend to soften in the hot candy. If the dough gets too soft or hot, it will fall off the lollipop stick.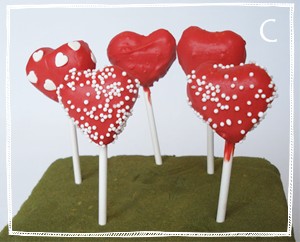 &nbsp
Step 5:
Next, decorate your treats with sprinkles while the candy is still hot. Then stick them in a piece of foam to hold them up as they harden. See photo C. You'll notice we have left some of the hearts without sprinkles. This is so white candy melt can be drizzled over them to create stripes or designs.


To do this method, let the candy on the hearts harden first. Then, melt your second color of candy melts and place it into a plastic bag with the tip cut off to decorate. See photo D.
Your Valentine cookie dough treats are now done! Be sure to keep them refrigerated until you are ready to serve them.


Return to Valentine Crafts from
Homemade Valentine Ideas: Cookie Dough Treats


---

Vee Says:
I bake cookies on a stick and they work great, just push the stick in the bottom of cookie dough.
Kelli from Holiday Crafts and Creations Says:
Hi Beth, we never tried baking them because we were afraid a cookie might crumble off the stick. We thought cookie dough would stick better to the lollipop stick. If you try baking them let us know how they turn out. We'd love to know! Thanks!
Beth Says:
Curious if these can be baked, like cake pops? These are adorable! Will be trying very soon!
juliayen Says:
Nice ideas............ thanks alot
Nancy Says:
Great idea using egg beaters!! Who doesn't love cookie dough!! Thanks!!!
Sharon (from SimplyCanning.com) Says:
I'm going to have to try this. My husband and sons LOVE cookie dough.
yu wai (from myanmar) Says:
i want to eat. pls :)
so cute....