Kids Sewing Projects: Felt Shamrock Bracelet
This darling felt shamrock bracelet is one of our easy kids sewing projects for St. Patrick's Day. The bracelet is really easy and fun to make and you only need a few supplies. So if your kids like to sew, this bracelet would be a great project for them. Just follow our step-by-step bracelet making instructions and learn how easy it is to sew these cute felt bracelets.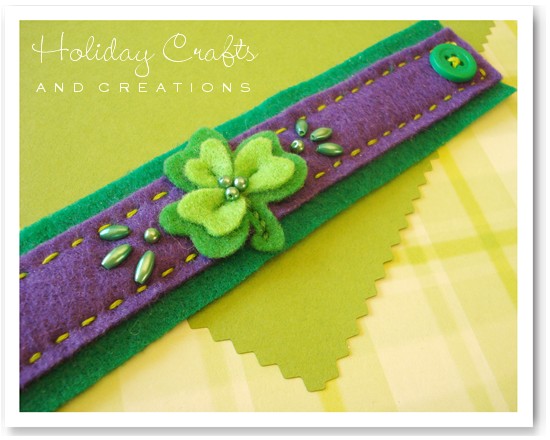 Jewelry Making Crafts For Kids: Felt Bracelets
---
Materials
Felt: 3 shades of green, dark purple
Embroidery thread: 2 shades of green
1 green button ( ½" wide)
5 small round green beads (1/8" wide)
6 small oblong green beads ( ¼" long)
Needle
Scissors
---
Bracelet Making Instructions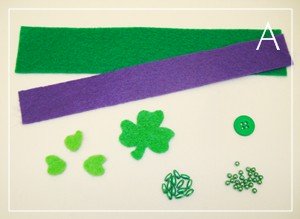 Print and cut out the shamrock bracelet template.
Note: the bracelet pattern is only a guide. Be sure to measure your own wrist and adjust the length of the band accordingly.
Next, trace and cut out the felt pieces. We used dark green for the bracelet, dark purple for the center strip, medium green for the shamrock and light green for the inner leaves. See photo A.

Sew the purple center strip down using the running stitch in light green thread. See photo B.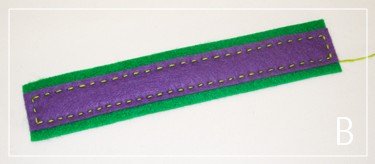 Sew a ½" button to one end and cut a slit for a button hole on the other end. See photo C.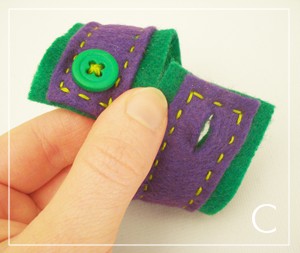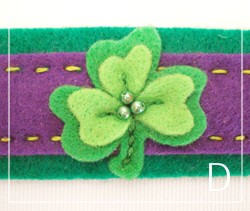 Place the shamrock in the center of the bracelet. To keep your knot in the center and not along the edge of the bracelet, start sewing the stem on from the center of the shamrock. Now using the running stitch in matching thread, sew the shamrock stem onto the bracelet. Work your way to the stem end and then back again to the center. When you are done, it will look like you used the backstitch, but be sure to use the running stitch so you can work your way back to the center. No need to knot your thread, just continue and sew on the inner leaves. They only need to be sewn on with a couple of stitches. Then sew 3 round beads in the center of the shamrock. See photo D.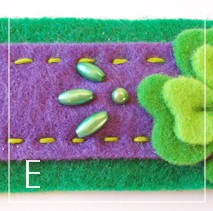 On each side of the shamrock, sew 1 round bead and 3 oblong beads. See photo E.
Your shamrock bracelet is now finished! We also have a sewing tutorial for a matching felt barrette, which would look so cute with this bracelet! So be sure to check it out.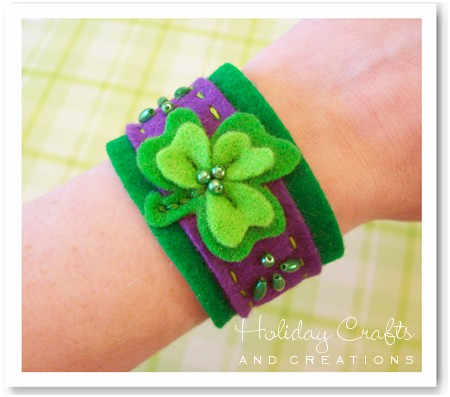 We hope you enjoyed this felt bracelet project and for more kids sewing projects or other beginner sewing patterns, click the link below.
Return to St. Patrick's Day Crafts from
Kids Sewing Projects: Felt Shamrock Bracelet


---

Lima Says:
So cute, thanks for sharing this tutorial! I linked it in a series I'm writing for my blog (http://rock-n-roll-stops-the-traffic.blogspot.com/2012/03/diy-from-head-to-toe-3-special-edition.html), I hope you don't mind! :)
Yasmeen Says:
So easy and good looking friendship band. Thank you for lovely creation.
gina (philiipines) Says:
it's so cute! i believe this is not only for kids, for me too!
Rhonda @ Dollar Store Mom Says:
Very cute! I will be linking this project on DollarStoreMom.com! :)
Cheryl Says:
Kids? Heck... I may make one for me. So cute!
Rosemary Matthews Says:
Can't wait to make this for my elementary age granddaughter so she will not get pinched on St. Patric's Day.