Make Your Own Christmas Cards:
Embossed Reindeer
Why not make your own Christmas cards this year?! Card making can be a wonderful activity for the whole family. It's fun, inexpensive, and can be a great way to build holiday memories. And if you need a little card-making inspiration, how about this embossed reindeer card? It's a nice looking card that's pretty easy and fun to make. So let's get started!
Make Your Own Christmas Cards: Embossed Reindeer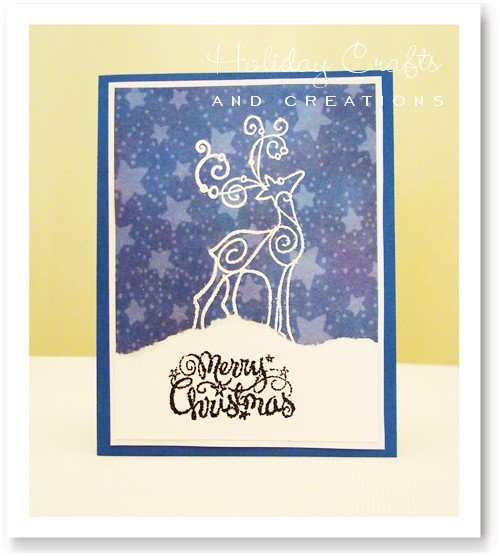 ---
Materials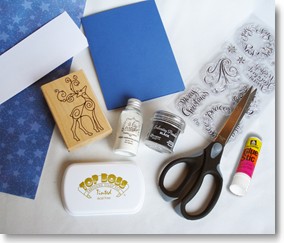 Blue cardstock (made into a 4¼" X 5½" card)
Blue scrapbook paper (star or snowflake design is nice)
White cardstock
Reindeer stamp
(about 2" – 2½" tall)
"Merry Christmas" stamp
Embossing ink
White and black embossing powder
Scissors
Glue stick
A2 envelopes
(4 3/8" X 5 3/4")
---

Instructions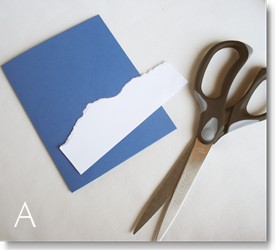 Begin by getting your card ready. Simply cut a standard 8 ½" X 11" piece of blue card stock in half width-wise and then fold one of the sides in half.
Now cut out a strip of white cardstock that is at least 2" wide and 4-5" long. Then you will rip the paper length-wise. Try to only rip off about ½" so you are left with a piece that is roughly 1 ½" wide. See photo A.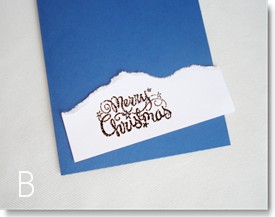 Using your "Merry Christmas" stamp (or some other greeting), stamp and emboss on your white strip of paper. See our Embossing page to learn how to emboss. Try to pick a wide area that is somewhat near the center of the strip. See photo B.


Using your blue scrapbook paper, cut out a rectangle that measures 3 ¾" X 5". You now will emboss your reindeer stamp in white in the center. This part is a little tricky though, because you want to position the stamp in just the right place so that when the strip of "snow" is glued to the bottom of the card, it looks like the reindeer is standing in the snow (and not floating above it or otherwise!). So just do your best to judge where to stamp the reindeer so it lines up with the snow later. See photo C.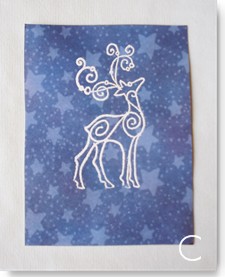 Now line up your ripped white strip across the bottom of your blue scrapbook paper. When you are happy with where it's at, glue it down and trim both sides so it is flush with the blue scrapbook paper. And with any luck your reindeer will appear to be standing on the snow! See photo D.




Before you glue this whole piece down to the front of your card, glue it down to white cardstock (or even printer paper). Then trim the white paper so there is only a border of about 1/8". And now you can glue this down to the front of your blue card. And your card is now finished!
Note: These cards take A2 envelopes which are 4 3/8" X 5 ¾".
So if you are feeling crafty and want to make your own Christmas cards, this idea would be a nice one to try.
Is card making your hobby? Looking for more ideas? Well, we have many more homemade greeting card ideas for the other holidays too, so be sure to check them out. And for more handmade Christmas card ideas, click the link below.



Return to Christmas Crafts from
Make Your Own Christmas Cards: Embossed Reindeer
---