Mothers Day Cards: Pop-up Flowers
These two Mothers Day cards are very bold and cheery, and quick to make. The card on the left uses the stamp "ruffled bloom" by Stampendous.
For the background we used a piece of green scrapbook paper bordered in purple and dark green paper. We stamped the green paper with the "ruffled bloom" stamp and white ink. This makes a background that ties in with the focal point.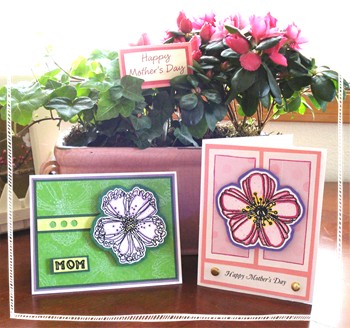 We added the light green strip to give it some interest. We then made a black embossed stamp of the flower, cut it out, and colored it in with purple colored pencil. To learn how to emboss stamps, please visit our Helpful Hints: Embossing Stamps page. The "Mom" label is also done with black embossed stamped letters. To make the flower and the "Mom" pop-up, we simply used small rolls of tape. Of course if you are going to be sending this card through the mail, that may not hold up. In that case, we suggest using several layers of felt taped together, or thin pieces of foam if you have it.
For the card on the right we just used pink construction paper for the background, and layered white and pink scrapbook paper on top of that. Once again we embossed the flower using black embossing powder and colored it in. It too was applied with rolls of tape so it would pop up. The stamp is called "fresh bloom" and is also by Stampendous. The "Happy Mother's Day" label was just printed out on the computer and then two brads were used on either side. Please note: put the brads on before gluing the pink background down. That way the backings are hidden and not visible inside the card.
Both of these stamps are very cute, but a little hard to track down. We found ours on Ebay, but you can also search around to see if anywhere else sells them.
---
Return to Mothers Day Crafts from Mothers Day Cards: Pop-up Flowers