Mothers Day Cards: Paper Lace
Mothers Day cards should be unique and from the heart. While this card looks very detailed, it actually took few supplies.
The card itself is just white card stock. We then covered the front with light purple patterned scrapbook paper, leaving a thin white border.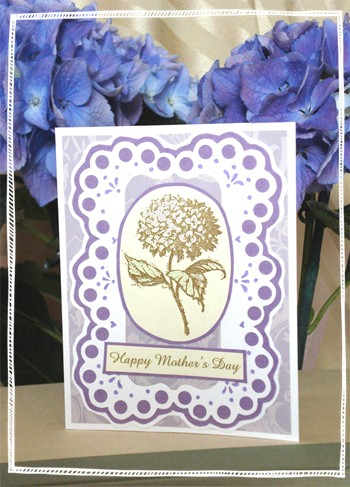 The paper lace portion was the most tricky. While the scalloped edge was made freehand, we first made a pattern that we could trace. Once we drew a section of scallops we were happy with, we used this as a pattern to create a bordered piece of white paper. Then we went along with a hole punch, and punched a hole in each scallop. The other smaller designs you see were then drawn in with a purple colored pencil.
We then glued this lacy piece of paper onto purple construction paper and cut around it leaving a thin purple border. Another strip of the light purple scrapbook paper was then glued in the center, and as you can see, the ends were cut to match the scalloped border.
The hydrangea stamp used in the middle is by Inkadinkado and can be found at Jo-Ann Fabric and Craft Store, or at their website. We embossed the stamp in gold embossing powder and then lightly colored it in with colored pencil. The "Happy Mother's Day" label was just printed on the computer in a gold color. As you can see, they both are bordered by purple construction paper.
To learn how to emboss, please visit our Helpful Hints: Embossing Stamps page.


Return to Mothers Day Crafts from Mothers Day Cards: Paper Lace