New Years Eve Party Food:
Homemade Party Favors
Here's a great New Years Eve party food idea! Serve your guests these yummy cookie dough treats. They are sure to be a hit at your party. These little "champagne bottles" stuck into an "ice bucket" of chocolate Kisses make really cute New Years party favors for your guests.
If you need some New Years party ideas for boys or girls, then these treats would also be cute at a kid's party. Or if you've been looking for some fun New Years activities for kids to do, then they are sure to have fun making these yummy treats (along with your help, of course)!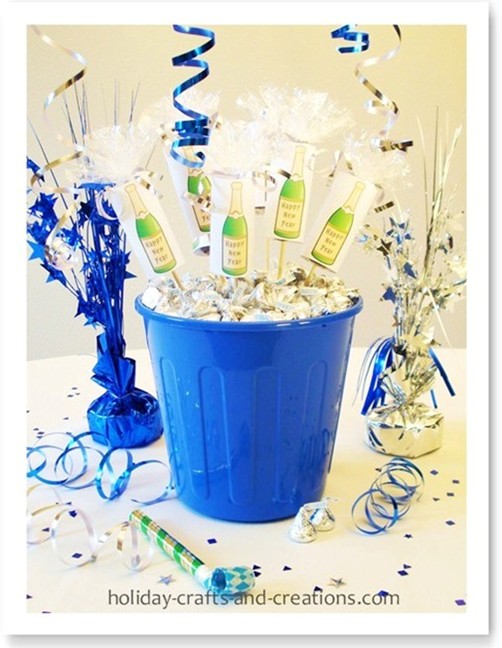 ---
Materials For New Years Eve Party Food:
Homemade Party Favors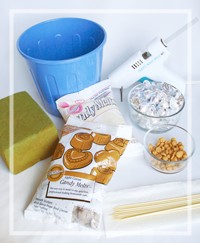 What You Will Need:
Bucket (we found ours at a dollar store)
Chocolate and white candy melts (Can be found at Joann.com)
Butterscotch or peanut butter chips
Wooden skewers
2 Blocks of floral foam
Silver wrapped chocolate Kisses
Cookie dough (replace raw eggs with a pasteurized product like Egg Beaters or Scramblers)
Rice or beans
Clear plastic wrap
Curling ribbon
Hot glue gun (optional)
---
Instructions For New Years Eve Party Food:
Homemade Party Favors
Step 1:
Make your cookie dough with a pasteurized product like Egg Beaters, instead of raw eggs. This way you can eat your cookie dough safely.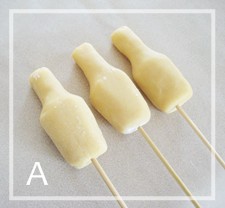 Step 2:
Form the cookie dough into champagne bottle shapes. These should be around 3" high or shorter. Then insert a wooden skewer into the bottom of each cookie dough bottle about half way into the bottle. See photo A. Then refrigerate them for a few hours so that the dough becomes firm.
Step 3:
Melt the chocolate candy melts in a double boiler or microwave according to the package directions.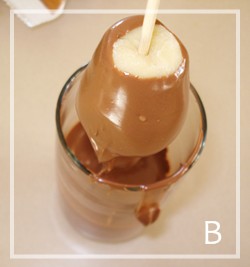 Step 4:
Dip or roll the cookie dough bottles into the melted candy. Since the bottles are so tall, we poured our melted chocolate into a drinking glass to make it deeper and easier to dip the bottles into it. See photo B. As you can see, this will probably be a little messy! Do this as quickly as you can because the cookie dough will tend to soften in the hot candy. If the dough gets too hot or soft, it might fall off the skewer.


Step 5:
As you pull the dough out of the hot candy melt, use a toothpick to wipe off most of the chocolate from the very tip of the bottle. This way the butterscotch chip "corks" will be able to sink further in when you coat the top in white later on.
After you have dipped each bottle, stick them in a piece of floral foam to hold them up while they cool and harden. It's best to refrigerate them to keep the cookie dough cold. See photo C.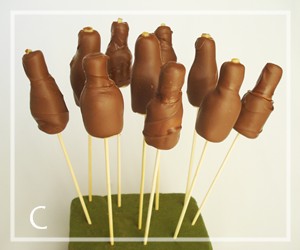 Step 6:
After the chocolate candy coating has hardened, melt the white candy melts. Once it is melted, you may want to pour it into a drinking glass as well. Now dip the necks of each bottle into the white candy melt. This creates the look of the wrapper around the neck of a champagne bottle. See photo D.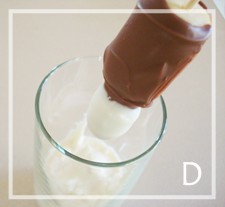 Right after dipping each bottle, stick a butterscotch or peanut butter chip into the top as the cork. After you have stuck a cork in the top, stick them back into the floral foam and put them back into the refrigerator.
NOTE:If you would rather not make your cookie dough into bottle shapes and do the above look, than an easier alternative would be to just make 3" long rolls of cookie dough, and dip it in any desired color of candy melt.
The cookie dough treat part of this project is now done!
You will want to leave your cookie dough treats refrigerated until you are ready to serve them. Next you will be getting your "ice bucket" ready!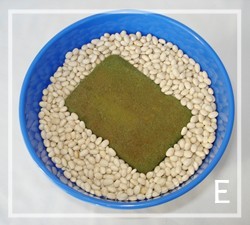 Step 7:
The bucket will need a block of floral foam in the base to hold the cookie dough treats upright. To secure the foam into the bucket so it doesn't easily pull out, you could hot glue the foam into your bucket. To fill in around the block so your candy Kisses have a solid base to sit on, fill in around the block with either crumpled plastic bags or dried beans or rice. See photo E. Your bucket is now ready.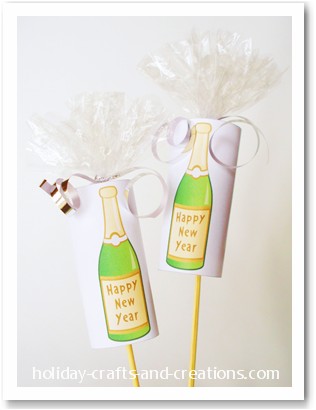 Step 8:
After the candy coating has harden around the cookie dough, they are ready to be wrapped in clear plastic wrap and tied off with some curling ribbon. For each one, get a piece of plastic wrap ready, and then poke a hole through the center of it with the end of the skewer. Then bring the plastic wrap up, and wrap it around the bottle, tying it off at the top.
Now print out the Champagne Bottle Covers. Cut these out, and wrap one around each bottle, and tape them in the back. This way they are cute and festive for the party, and are also wrapped and ready if your guests want to take them home.


Step 9:
To get the ice bucket finalized for your party, begin sticking the cookie dough treats into the floral foam. Once they have all been arranged in the bucket, pour in your "ice" (chocolate Kisses) and distribute them around all the skewers.
Now your New Years party favors are done and ready for your party!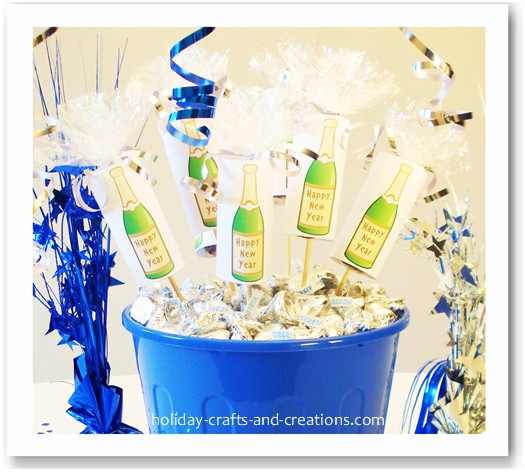 For more New Years Ideas, click the link below.
Return to New Years Eve Crafts from
New Years Eve Party Food: Homemade Party Favors



Kate Says:
what a cute idea for a kids party
Nancy J. Says:
I'm having a party for my daughter and her friends and needed some cute party ideas. This is such a cute idea, thanks so much!
Jimmy Rodier Says:
The idea is cool. sort of.
Beth Says:
I agree with MaryJo, it's a great party idea and I love it too!
MaryJo Says:
What a clever idea - I love it!
Sandy Says:
This is a really cute and fun idea for New Year's Eve!
nashrah Says:
nice and very good idea!!!!!!!!!!!!
---
New Years Eve Party Food: Homemade Party Favors