New Years Eve Party Ideas:
Noisemaker Centerpiece
Get ready to ring in the New Year with some of our New Years Eve party ideas! And if what you are looking for are some easy ideas for homemade centerpieces, then you might want to try this really quick and easy noisemaker centerpiece. This is a great idea to have your party noisemakers do double-duty. Let them be the decorative focal point of your holiday table settings and then when it's time, all your guests can easily grab a noisemaker and be ready for when the clock strikes midnight. This idea could be used in a candy or nut bowl, or as a decorative center on a food platter. Or you could also use each individual noisemaker skewer as a food pick in large deli sandwiches.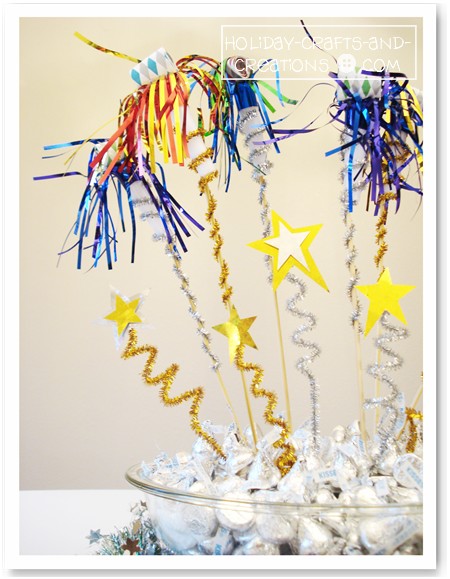 ---
Materials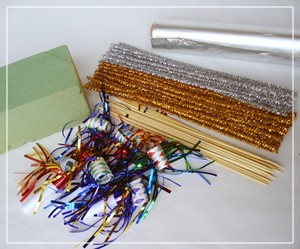 Bowl and candy
Floral foam
Aluminum foil
Gold and silver pipe cleaners (12" long)
Noisemakers (party horn blowers)
Wooden skewers
Hologram paper (gold and silver)
Tape
Scissors
---
Instructions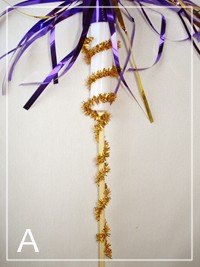 Cut the floral foam to fit the bowl you will be using. Cover the foam in aluminum foil.


Twist the end of a pipe cleaner around the mouth piece of a noisemaker and then connect it to a wooden skewer by twisting the pipe cleaner tightly down the skewer. See photo A.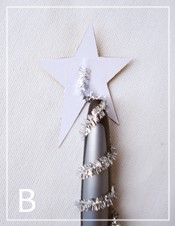 Print and cut out the star template. Then trace and cut out the stars on the hologram paper. Now tape the stars to the end of the pipe cleaners and twist them around something like a wide marker. See photo B. Then slip the marker out of the pipe cleaner.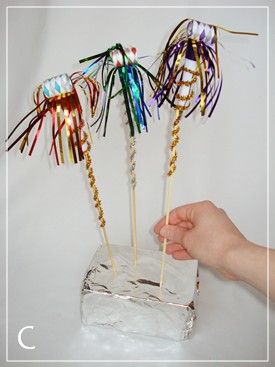 Next you simply arrange the noisemakers and stars in the floral foam, to your liking. See photo C. Be sure to sink the skewers deep into the foam for better stability. Now place the foam block in your bowl and fill with candy.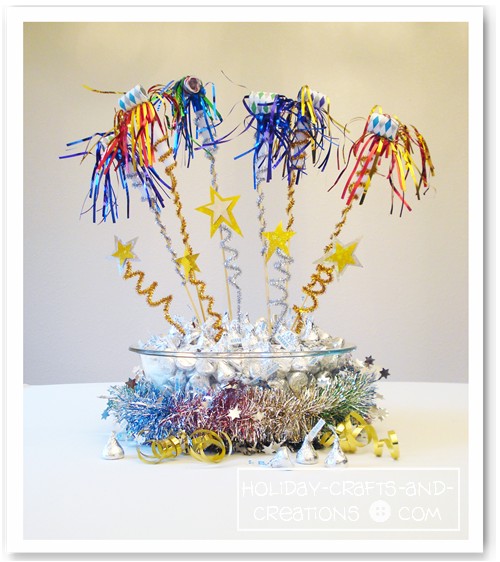 For more New Years Eve party ideas, or for more homemade party decorations, click the link below.
Return to New Years Eve Crafts from New Years Eve Party Ideas



Patricia Says:
awesome party idea, thanks.
Maria Says:
Super fun and festive, I'm going to do this for my party. Thanks for the great idea!