Father's Day Pop Up Cards: Ocean Scene


If you have been looking for Father's Day pop up cards, try out this cute ocean scene Father's Day card! It is very easy and even young kids could make it. The template for all the sea creatures is provided, so all you really need is a supply of scrapbook paper.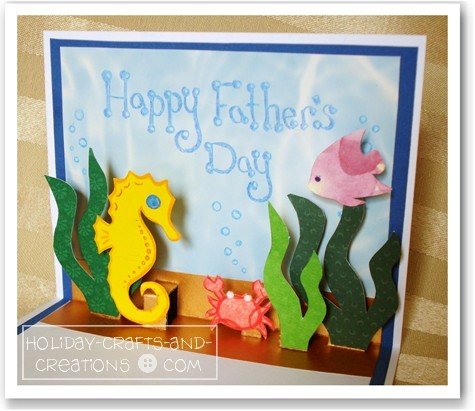 ---
Materials for Pop up cards: Ocean Scene
Card-stock or blank card
Blue construction paper
White paper
Gold or sand colored paper
Water design scrapbook paper
Three shades of green scrapbook paper
Yellow, red, orange, and pink scrapbook paper.
Note: You can pick what colors or styles of scrapbook paper you like best, and as you can see from the above photo, the sea creatures could be in any color you like!
---
Instructions for Pop up cards: Ocean Scene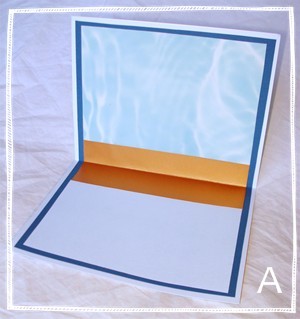 First you will glue or tape down the blue construction paper to the inside of the card, leaving a white border. Then on the top half on the inside of the card, glue or tape down the water design scrapbook paper, leaving a border of the blue paper. Do the same thing with the white paper on the bottom half of the card. Make sure it is the same width as the water paper above. This white piece is where you will later write your message to dad.
Then cut a strip of the gold/sand scrapbook paper that is the same width as the white and water papers you just glued down. This piece will be glued in the fold of the card to create an ocean floor. See Photo A.
Tip: Glue down the gold paper while the card is widely opened, almost flat. If you try folding the gold piece ahead of time and gluing it in while the card is folded (even 90 degrees), it will later pull or tear off when trying to open the card further.

Next, print out the template provided (.pdf file) and cut out all of the patterns. Trace each pattern onto your chosen scrapbook or construction paper and cut them out. You must decide how you would like to arrange them inside your card. For our card, we saved the starfish for the front and used the rest inside, but feel free to arrange them however you would like.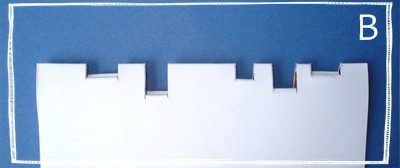 Once you have decided how to arrange the cut-outs and how far out you want each one to pop-out, fold the card shut. Like most pop up cards, on the folded side you will now make a series of cuts. Two cuts next to each other will be folded inward to make one place for a pop-up. Make these cuts wherever you want one of your sea life cut-outs to pop up on the inside. The longer the cut, the further out the pop up will be inside the card. Once you are finished making cuts, fold each cut portion inward. Take a look at photo B for an example of what our card looked like.

Now you can begin to glue or tape your cut-outs onto the sections you just folded in. Once this is done, write "Happy Father's Day" in blue colored pencil or marker on the ocean background. The inside of your card is now complete!

The front of your card now has notches cut out of the top, which isn't very pretty! Cover this up by folding a piece of blue paper over the notches, and gluing it down. You can decorate the cover in any way you would like. As you can see in the below photo, we cut out two starfish in yellow and orange and colored on designs. They are taped down with a roll of tape, so they too pop up from the page. Then we wrote out "Dad..." on some of the ocean paper and bordered it in blue. Then to finish it off, we put three adhesive metal dots across the top.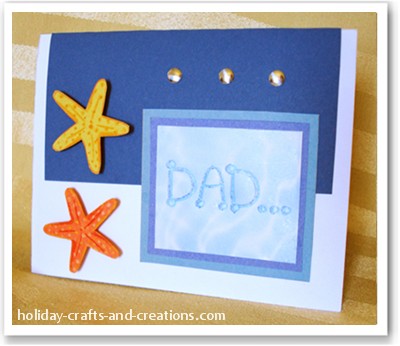 We hope you liked our Pop Up Cards: Ocean Scene page! For other fun ideas for your dad this Father's Day, click the link below...

Return to Fathers Day Crafts From Father's Day Pop Up Cards: Ocean Scene

jim Says:
I thought it was awesome
karen Says:
dad loved it so much
Sam Says:
AWESOME!! So much fun to make!
Amani Says:
its really fun to make and it looks so cute
jonatan Says:
that is so much fun
EMMA Says:
awesome
ashly Says:
so awsome
priyanka Says:
i love it
nainika Says:
its cool making it . my dad liked it the most
shreya Says:
it was fun making it and lovely too
gurkamal Says:
cool card I love it.
rachyl Says:
i did not do the ocean one but i did a motorbike one instead but he still loved it
samantha Says:
my dad loved this card very much
Elisia Says:
Legal,gostei (Cool, I like it)
mohit Says:
nice idea
SEPPY Says:
It was supper fun and esey and my dad is totaly going to love it:)
neha Says:
it was really very good making it and my dad loved it very much...!!!!
jennifer Says:
this was SO much fun to make and my dad is going to love it! it doesn't also look store made but it is really creative!