Valentine Cards
Unique, homemade Valentine cards are a great way to show your loved ones how much you care for them. While the possibilities are endless, we have some design ideas here that you can use or improve upon.
There are also many different supplies you can use, but the list below can help to get you started.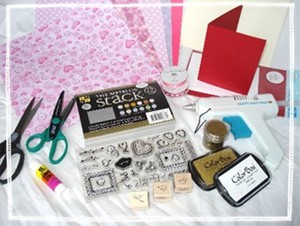 What You Might Need:
Card stock / blank cards
Variety of scrapbook / textured paper
Ribbon
Scissors
Paper edgers or pinking shears
Hot glue gun
Glue stick
Valentine's Day stamps Ink
Embossing powder
Brads (not pictured)
---
Design Ideas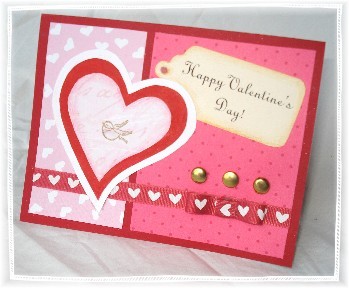 For this valentine card, we used a red pre-cut blank card, and used two pieces of Valentine's Day scrapbook paper for the background, leaving a red border. If you want to use brads like we did here, we recommend you punch them through the outer layer of scrapbook paper, and then glue it down so the backings are in between the two pieces of paper. Otherwise the backings would be visible inside the card, which isn't as attractive!
Before doing anything else, we glued on the ribbon with hot glue. The bow is actually separate from the main piece of ribbon.
To create the "Happy Valentine's Day" tag we just printed out the words on linen paper and cut it out freehand in the shape of a tag. We also colored lightly around the edges with a gold colored pencil. The heart was cut out of scrapbook paper in three different sizes and colors. The bird on the front was embossed with gold embossing powder. To learn how to emboss, see our Helpful Hints: Embossing Stamps page.
---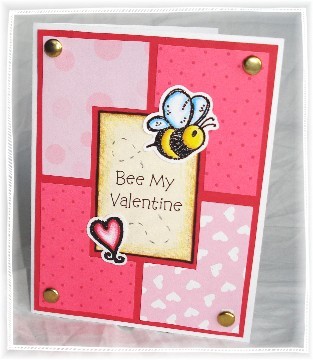 This card was made with white card stock and was fairly simple to make. As you can see, the front is covered with red paper and various scrapbook papers. However, you will want to construct everything onto the red paper first, before gluing the whole thing onto the white card. This is so the backings on the brads are hidden between the layers of paper, as stated on the previous card.
We first printed out the words in the center on linen paper and cut it out in the size we wanted. This was then glued down in the center. Next we measured out the sizes needed for the surrounding four pieces of paper. These were cut out leaving a small border of red on all sides.
The bee and the heart are both stamps that were embossed in black, and then colored in with colored pencils. The black outlining, the yellow shading, and the dashes from the bee were also all done with colored pencil. The brads in the four corners were put on last, and the whole thing was then finally glued onto the white card.
We hope you like these Valentine cards. Maybe they have inspired you to make a similar card of your own for your special someone! Be sure to check back in the future for more ideas!!
---