Homemade Valentine Decorations:
Wire Hearts
Get your home ready for Valentine's Day with these easy to make Valentine decorations! These cute wire hearts are really simple to do and if you've never done any type of wire crafts before, then this would be a great beginner project.
So have some fun and create different sizes, shapes and colors of hearts. And when you are done, wouldn't these whimsical wire hearts be so cute hanging in a window or over your dining room table?!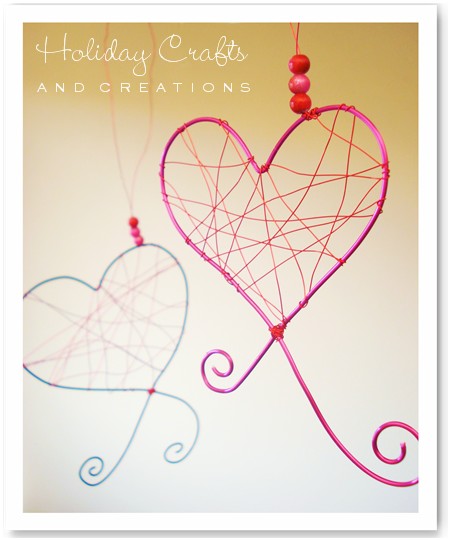 ---
Materials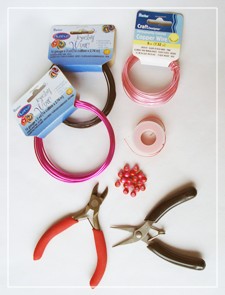 ---
Instructions

Cut a length of 16 gauge wire (around 1-½ to 2 feet). Begin curling one end with the needle nose pliers. See photo A. Form the heart, and cross the other end of the wire over the first. Then curl this end of the wire as well. See photo B.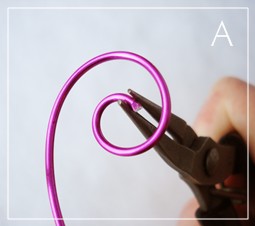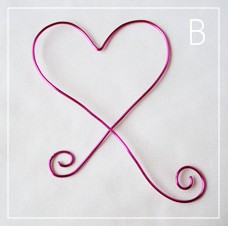 Now cut several feet of your 26 gauge wire, depending on how big your heart is, and how thick you want the criss-cross look to be. Start wrapping the wire around the point where the two ends of the wire cross at the bottom of the heart. This will hold the two ends together. See photo C.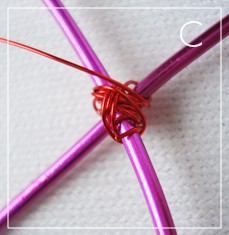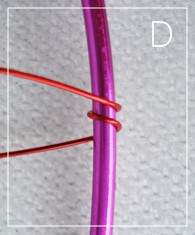 Next wrap the wire around the heart at various places. Each time you wrap around the edge of the heart, loop the thin wire around twice to help it stay put and not slide around as much. See photo D. But don't worry if the wire does slip around a little, because the imperfect loops (and kinks in the wire) are part of its charm.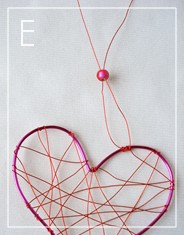 When you are done wrapping the thin wire around the heart (leave yourself at least 6" to 8") end it at the top of the heart where you want it to hang from. Now bend this wire in half and wrap the tail end around the heart. This creates a loop to hang it by. Then pinch the wire together and thread on three beads, and spread the loop open again. See photo E.
Your wire hearts are now finished and ready to decorate your home or to be given as Valentine's Day gifts!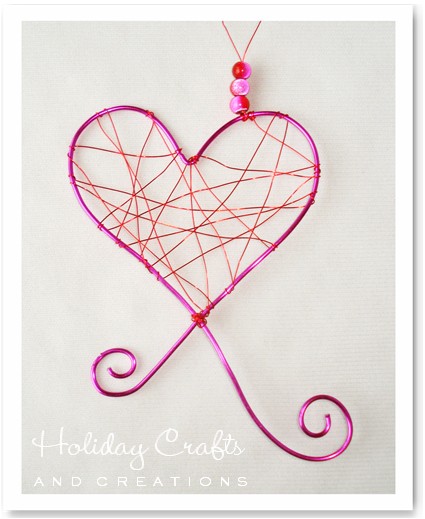 We hope you have enjoyed this Valentines Day art project of whimsical wire hearts. And for more ideas for Valentine decorations, click the link below.
Return to Valentine Crafts from Homemade Valentine Decorations: Wire Hearts



Dori Says:
I am making them scaling down to much smaller sizes using the smallest for earrings and a different size for my valentines earrings and necklace
Sheena Says:
those are really cool..!! really nice ideas <3 ..!!
marchio Says:
This craft is very simple and easy to make.Yet is warm at heart.
Brianna Says:
That Is really cool. I kind of reminds me of a dream catcher. I think I might make one for myself, but just change a few things. Thanks for the idea. :)
claudia Says:
muy buenas tus ideas ! (Your ideas are very good!)