Wedding Kissing Balls / Pomanders:
Daisy Design
If you want to make your own wedding pew decorations, try these elegant wedding kissing balls (also known as pomander balls). These pomanders are made out of paper daisies and are very easy to make. These pomanders would also be a great way to decorate at your reception or as a bridal bouquet design idea if you are planning on making your own bouquet. We will show you step-by-step how to make these pomanders, including the paper flower instructions.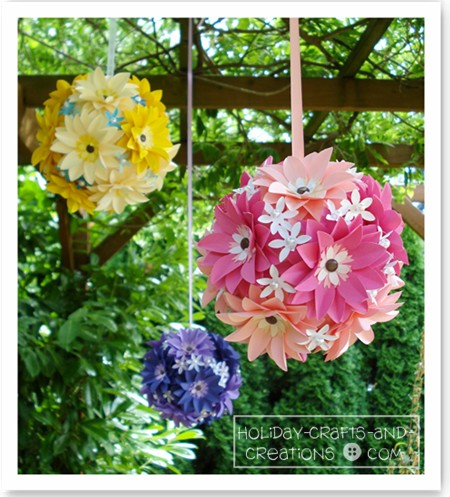 ---
Materials for Daisy Wedding Kissing Balls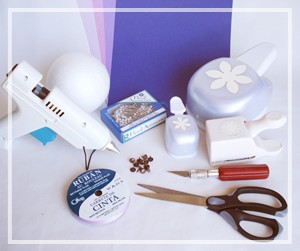 4" Styrofoam ball
Cardstock paper: 1 – 4 colors
12 brads (for one ball)
X-acto knife
2 or 3 punches (we used EK Success XL and Medium daisy punch, Martha Stewart cornflower punch)
Hot glue gun
Ribbon
Scissors
35 – 40 pearl head pins (for one ball): 6mm
Note: Our flower example shows two different shapes in the center of the flower, but to save money you could purchase just the large flower punch and one small center punch. Buy the small center punch that you would also like to use as the small flowers that fill in around the daisies so you don't have to buy a third punch.
---
Instructions for Daisy Wedding Kissing Balls

Using your flower shaped paper punches, punch out for each flower: 5 of the large flowers, and 2 centers (one in each color and shape). You will also need 1 brad. See photo A. For each ball you will need 12 flowers.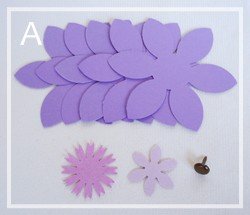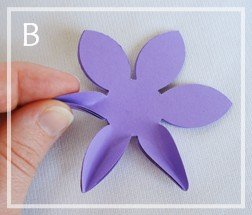 To begin constructing each flower, place all 5 flower pieces together and crease each petal down the center. See photo B.

After each petal has been creased, separate and alternate each flower so the petals are no longer nesting. See photo C.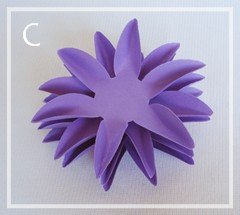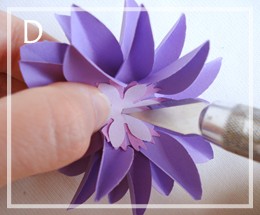 Now take your two small center pieces and place them in the center of the large flower. Then take your X-acto knife and make a small slice through the center of all the layers. This will make it easier to get the brad through. See photo D. Put the brad through and bend the ends on the bottom side of the flower. Your flower is now complete! See photo E.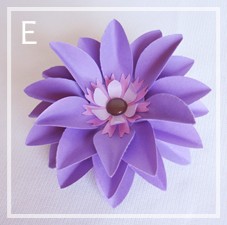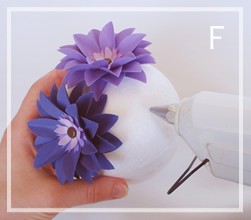 After you have made 12 of these daisies, you are ready to start gluing them on the ball using the hot glue gun. Glue the first flower down, and then glue five more in a circle around the first. Try not to tuck the flowers in too close to the first flower. These first six should take up about half the ball. Then glue the 7th flower in the center of the other side of the ball, followed by five more around it. This should cover the whole ball in daisies. You will have many gaps, but don't worry! See photo F.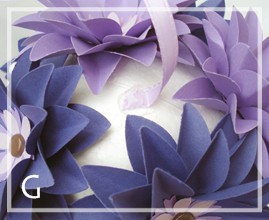 Decide where you want the top of the ball to be and hot glue the end of your ribbon to the foam ball in one of the gaps. The ribbon can be as long or short as you need. If you are planning on looping it over something, be sure to glue both ends of the ribbon to the ball. See photo G.



Now punch out 35 to 40 of your small flower shape in your accent color or colors. These will be used to fill in all the gaps between the daisies. You simply take one of your pearl head pins and poke it through the center of the small flower, and then poke these into the foam ball, filling in the gaps. See photo H.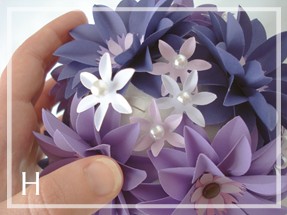 Now your pomander ball is finished and ready to decorate your wedding!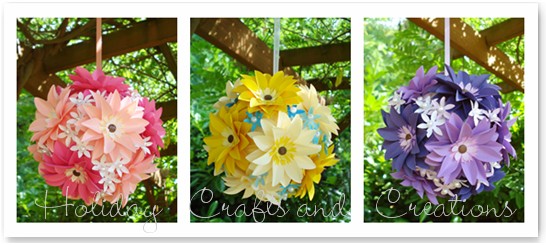 Return to Wedding Crafts from Daisy Wedding Kissing Balls


---

Kelli from Holiday Crafts and Creations Says:
Hi Patty, I am very sorry to say that I believe the X-Large Daisy punch has been discontinued. We did some extensive searching at all the places online we had found it at before, and we cannot seem to find it. We have also wrote to EK Success, but received no reply. This is very disappointing, but you can still make a similar pomander with the "Whale of a Punch" size. It will just be a little smaller.
patty Says:
Is the extra large daisy punch considered large whale size...thats the largest i can find online or in stores
rosario Says:
I think it is a good idea.
Katita Says:
Estan hermosas, me caso a fin de mes y esta es una gran idea...Me encantan!!! <3 (They are beautiful, I'm getting married later this month and this is a great idea ... I love it!)
Kelli from Holiday Crafts and Creations Says:
Hi Paige, we could not find the X-Large punches in any of the craft stores, (including Michaels) so we had to order them online. We ordered our punches from both Joann.com and createforless.com. We really hope you can find them and have fun making the pomanders! :)
Paige Says:
Thanks Kelli I will try that does Micheals sell it?
Kelli from Holiday Crafts and Creations Says:
Hi Paige, you can find the X-Large flower punches at Joann.com or createforless.com. I hope this helps!
Paige Says:
Where do you find the punches for the big flower I have all the small.
Roberta Walsh Says:
They are beautiful...omg...cant wait to make them for nieces wedding this summer...
NILDA PAREDES Says:
IT`S REALLY WONDERFUL. CONGRATULATION!
Bumbles Says:
I am in the process of making these however, be certain to get XL stamp punch as 12 Didn't cover the ball. I also 'scored' the petals for easier bending and I can't figure out now you manage to fold 5 at the same time?! Love it though and they look real!!
janettebiscuit Says:
belo amei!!!!!!!!!tudo lindoooooooooooooooooooooooooooooooooooooo!!!!! (loved beautiful! It's all gorgeous!)
Tina Says:
These are really beautiful and what an easy way to make them...thanks for shring this lovely idea
Mattina Curtis Says:
Very nice idea. I really like it and honestly you gave me now an idea. The materials are simple and easy to get but, how I wish it's also easy to create.
Erin Says:
I am using these as decorations at a silent/live auction. I've also used 6" balls and made topiaries, they look fantastic. I used my Cricut machine to cut out my flowers and a very small hole punch instead of the xacto knife (so much faster!).
Pam Lopez-Omlin Says:
LOVE this craft idea!!!! Cannot wait to make some for my daughters upcoming 5th Birthday party!! These will be a perfect added addition to our decorations for her Fancy Nancy Tea Party theme...and then to hang in her bedroom afterwards... thanks for the easy-to-to-steps!!!
Laura Says:
Cute idea and easy to make. I made them for my sisters wedding. I compromised and didnt use a glue gun though, I used long pins with pearls on the end, looked great if I do say so myself. Thanks!
Mari Says:
Love it, very nice
meme Says:
If you need to spray paint styrofoam use the floral "Design Masters" brand or any that does not have acetone as a solvent.
pilar sanchez Says:
Soy de Peru, es muy hermoso los trabajos realizados, realmente dan muchas ideas simples para desarrollar y tècnicas para crear . MUCHAS GRACIAS
(I'm from Peru, this work is very beautiful, You really give many simple ideas to develop and create techniques. THANK YOU)
Kelli from Holiday Crafts and Creations Says:
Thanks Donna and Katie for the helpful ideas! It's great to hear suggestions and helpful tips! It's always welcome!
katie Says in response to Donna:
You cannot use spray paint on styrofoam. The chemicals in it will basically melt it. Best to just paint it with acrylic or latex paint. I have heard of a brand of latex spray paint (krylon h20 latex) but I have not actually seen it in stores so I do not know how it works.
donna Says:
It would be a good idea to spray paint the ball the color of the flowers before adding the flowers. The white would not show through.
Annie Says:
They are beautiful, great for my daughter's wedding in Feb. Thank you so much for sharing.
kathy Says:
This would make darling topiary balls for decor at a 'paper' wedding reception!!!
Rosacr Says:
Me encantan vuestras ideas, son geniales. Besos. (I love your ideas, they are great. Kisses.)
Pam Says:
This would be a perfect baby shower gift as well! Thanks for sharing.
Nelda Says:
very cute, I love it, can wait to make this for my daugther room, thank you for share it
Christie Says:
LOVE this! Awesome idea! Thanks for sharing! :)
Heather - Dollarstorecrafts Says:
Thanks for the great idea. These are really stunning. I might try making them out of faux flowers, though, for a shortcut. I'm going to link to your project this weekend at Dollar Store Crafts: http://dollarstorecrafts.com/2010/09/wedding-kissing-ballspomanders/
Laura Says:
This might be the cutest DIY decoration I have ever seen!
---